The occupying Sri Lankan military in Jaffna has occupied new lands in Maathakal, leaving 279 more families without homes. The latest reports say that the Sri Lankan military is silently evicting people from their homes in areas that are situated outside the former 'High Security Zone', civil sources in Valikaamam North said.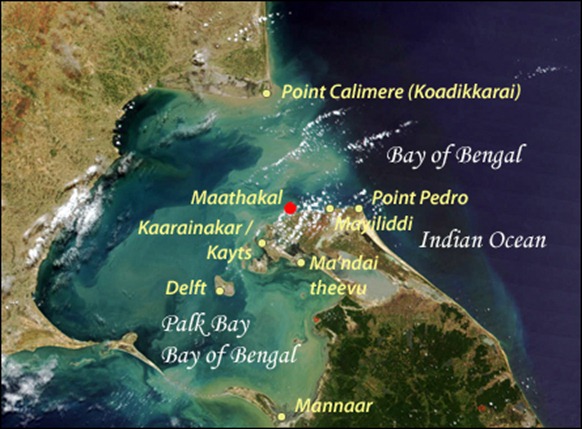 [Satellite Image Courtesy: NASA, Visible Earth. Details & Legend: TamilNet]
While Colombo has declared Thiruvadi-nilai and 200 meters surrounding the coastal spot as a 'Holy Zone', the SL Navy has refused entry to people of the area to lands that are situated even beyond the so-called Holy Zone.
Meanwhile, a long coast stretch of land from Maathakal to KKS has been leased out to Malaysia-based corporate of Chinese connections to set up a wind-mill and solar electricity farm.
India is involved in 'developing' KKS Harbour and Palaali airport in the SL military 'High Security Zone'.
The SL military doesn't allow Eezham Tamils to visit Thiruvadi-nilai. Only Sinhala visitors from South are allowed to visit the 'Holy Zone', where a Buddhist stupa was put up after the end of war.
In the meantime, Sri Lanka Navy has also occupied lands along the coast, constructing hundreds of houses along the strip for the families of SL Navy sailors. A naval base has also been established, making the area into a military cantonment.
Civilians who used to visit their houses in the areas where land mines were cleared, have been recently threatened by the SL Navy not to enter the area. The SL military has also put up noticeboards warning land mines. The civilians have also complained of witnessing new landmines being planted in their lands.
The latest report of SL military occupying more lands has been reported outside the former HSZ.
The people of Maathakal have been repeatedly protesting against the land grab.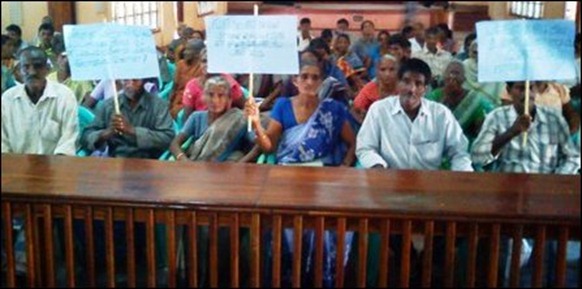 (For updates you can share with your friends, follow TNN on Facebook and Twitter )