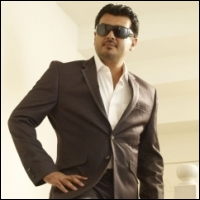 Billa 2 released yesterday all over the world and audiences in Qatar got to see the movie on Thursday night itself. The crowd was huge for that premier show and the police could not handle it. They were never exposed to such fan frenzy prior to this and the police had to resort to lathi charge to disperse the crowd.
The Arabs were surprised when they heard this news and were wondering "Who is this Ajith Kumar?". Looks like Billa 2 frenzy has not only gripped Chennai but faraway Qatar isn't an exception either.
Talking about Chennai, fans spent close to 1.5 lakhs to buy a huge garland to decorate Ajith's cutout in Albert theater. 16 fans from Bangalore brought this big garland all the way, just to celebrate Billa 2's release in Chennai. They spent close to 15000 for transporting this garland. Talk of fan frenzy again.
(For updates you can share with your friends, follow TNN on Facebook and Twitter )