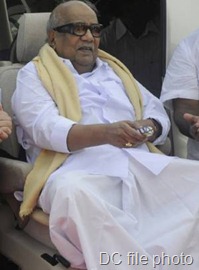 DMK chief M. Karunanidhi on Monday said he was under no pressure from the Centre over the recently revived Tamil Eelam Supporters' Organisation, a pro-Sri Lankan Tamils outfit, but said a separate homeland for Tamils in the island nation might be a reality some day.
"There is no pressure from the Centre. It is just your imagination," he told reporters here a day after Union Home Minister P. Chidambaram met him amidst reports that Centre was not happy about a move to pass resolution at the TESO meet here next month demanding Tamil Eelam (separate Tamil nation).
Karunanidhi said the issue had not figured during his meeting with Chidambaram and 'he did not discuss politics'.
The DMK chief, who along with some other pro-Tamil leaders had revived TESO floated by him in the 80s, said the August 12 conference will discuss ways and means to ensure the welfare of 'remaining Tamils' in Sri Lanka in democratic and peaceful ways as he ruled out armed struggle as a solution.
"Tamil Eelam might come into being some day. I don't expect it to happen the very next day of the conference and I am not a fool to believe so," he said.
Karunanidhi had last month said the TESO meet would discuss ways and means to achieve Eelam, describing it as 'my long and unfulfilled dream'.
While a separate Eelam was always welcome, one should consider the prevailing situation, he said.
"Take for instance India's independence (struggle). It was our only goal and we had adopted various methods to achieve it. This is something like that," Karunanidhi said when asked about his earlier statement that formation of Eelam would be the central theme of TESO.
He added he would not budge to any pressure as regards Eelam.
Views of participants from the Tamil diaspora as well as others would be elicited to work out solutions for the Sri Lankan Tamils, Karunanidhi said, adding the present efforts were confined to immediately addressing their problems, ensuring their livelihood and welfare.
NCP leader Sharad Pawar, Farooq Abdullah of the National Conference, JD(U) chief Sharad Yadav, LJP leader Ramvilas Paswan and a Nigerian minister, several Sri Lankan Tamil MPs have assured their participation, titled "Eelam Tamils Rights Protection Conference," he said.
Asked if Congress would be invited for the TESO meet, he said, "We will invite all."
On the Centre extending the ban on LTTE, decimated by the Sri Lankan Army in the 2009 war, the 88-year-old leader said it should not be construed as a ban against Tamils. He was against terrorist activities and armed struggle in India especially in Tamil Nadu.
(For updates you can share with your friends, follow TNN on Facebook and Twitter )