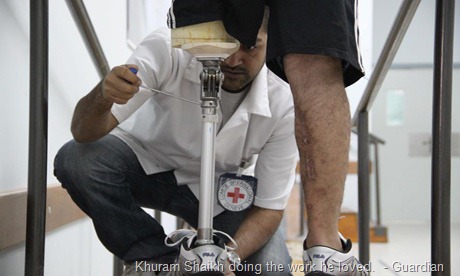 (Matt Baker) It is over seven months now since Khuram Shaikh was murdered at a Sri Lankan coastal resort on Christmas Day. While newspaper coverage of the British International Red Cross Worker's tragic death has long since faded, warm tributes continue to flood in.
Such was the impact made by the 32-year-old prosthetics worker from Rochdale ,that memorials, ceremonies and lasting tributes have been organised all over the world. In the last few months former colleagues in Dublin's national orthopaedic hospital have unveiled a plaque in memory of him; the University of Salford, where he studied prosthetics and orthotics, is creating a special award in his name for undergraduate prosthetics innovation; and in Gaza, where he led the only functioning prosthetics and orthopaedic centre in the Gaza Strip, a new rehabilitation room has been named in honour of him.
In a moving and tearful ceremony, the Mayor of Gaza, Rafiq Mekki, led the tributes to Khuram for his humanitarian work and vision he displayed in transforming the Artificial Limb and Polio Centre, which serves a population of around 1.5million people. Khuram's softly spoken brother, Nasir, tells me over a coffee in the suburbs of Manchester:
He really loved his job and he touched the lives of many people. He'd worked in North Korea and Ethiopia before he went to Gaza and he was already planning his next assignment to Cambodia.

Helping people who had lost limbs from bombs, landmines and diseases in some of the most dangerous parts of the world was all in a day's work for Khuram.
Nasir adds:
The irony is that he was required to take regular holidays to get away from war-torn environments and get a sense of normality – and that's what he was doing when he was murdered.
A white-sanded beachside hotel in the Sri Lankan town of Tangelle might seem a million miles away from the troubles of the the Gaza strip. But it was in these picture postcard surroundings that Khuram met his death after trying to rescue a local restaurant owner who was being physically harassed by a group of drunks. His peacemaking efforts saved the restaurant owner, who turned and fled, but the gang went for Khuram instead and he was viciously attacked, shot and stabbed. Nasir says:
He wouldn't have seen danger. If he'd seen someone in trouble he just would have wanted to help.
Eight people are still being held by police in Sri Lanka in connection with the attack, including a prominent local politician. As yet, no charges have been made, but many have pointed the finger at what they call 'political mobs out of control.'
In the days following Khuram's death, Sri Lanka's deputy economic development and tourism minister, Lakshman Yapa Abeywardena, told a media conference that the outside world could expect a thorough investigation. He said:
Those who committed this crime will be severely dealt with even if a ruling party politician is involved. The government will not protect those involved in this crime.
These are words that Khuram's brother has clung to at his home in Stockport in the months that have passed since Khuram's body was flown back to the UK. But with no trial in sight, no charges being brought and the investigation being dogged by delays and misinformation, his frustration is growing.
The last six months have been an emotional rollercoaster for him. He has met with UK government ministers, been out to Sri Lanka to trace his brother's last steps and waited every day for the call to tell him that charges have been brought against the suspects. He says:
I still haven't read the witness statements of the tourists who saw what happened to him. I won't be able to properly grieve until those that did this are brought to justice.
while there is no trial in sight in Sri Lanka, another court thousands of miles away has just seen a conviction for a murder that also happened over Christmas. This one was for the murder of Indian student Anuv Bidve, who was shot in the head on his way to the sales in Manchester.
Seeing a man standing in the dock at Manchester Crown Court receiving a life sentence for a murder that took place a day after his brother's brings home the distance between the two countries for Nasir:
It's frustrating. It just shows how worlds apart countries can be. One country can be proactive, get the trial started and secure a conviction. While in another country you're told everything is proceeding but seven months on and nothing's started.
(For updates you can share with your friends, follow TNN on Facebook and Twitter )