While the international system bails out genocidal Sri Lanka by indecisiveness on international investigations, the occupying Sinhala military is engaged in erasing all remaining traces as well as in earning money by systematically backing plunder and trade of vehicles and scrap-iron left in the land of genocide. While citing land mines the public and local people are not allowed to return to Mu'l'livaaykkaal and Maaththa'lan, large gangs of Muslim traders brought from the South, and equipped with oxygen cylinder cutting tools, are openly engaged in removing vehicle parts and scrap iron. The SL military and some high officials earn huge amount of money in the lucrative trade. Meanwhile, 21 local families of Mu'l'livaaykkaal, who were recently allowed to come back in a showcase resettlement, languish without even drinking water and they are treated like slaves by the occupying military.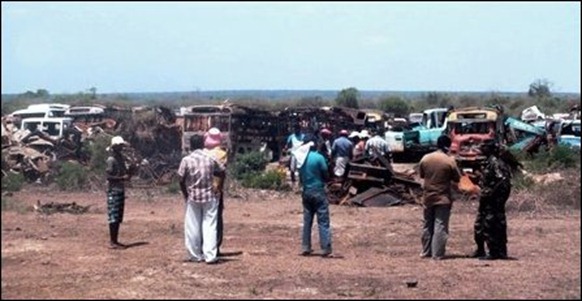 The direct involvement of the occupying military in the large-scale plunder and trade became evident when TNA parliamentarian Mr. Sritharan defied the entry ban and went to the site recently, after hearing complaints. When he tried to chase away the Muslims plundering vehicle parts, they confessed that they work with the permission and full backing of the SL military.
The SL Asst. Government Agent in Puthukkudiyiruppu division denies giving permission to any one for removing scrap metal from the war site.
Several thousands of private vehicles were abandoned at the genocidal land comprising of the villages, Ve'l'laam-mu'l'livaaykkaal, Karaiyaam-mu'l'livaaykkaal, Iraddai-vaaykkaal and Puthu-maaththa'lan, which are still not allowed for entry.
A Church organisation recently noticed a vehicle belonging to it and abandoned at the war zone being now used in Colombo by its 'new owners'.
Every last bit of Eezham Tamils are pillaged, without leaving even scrap metal, commented people enslaved to Sinhala military in Vanni.
In a showcase exercise of resettling Mu'l'livaaykkaal, the occupying military has recently brought 21 families from an IDP camp at Vavuniyaa. They were left at Mu'l'livaaykkaal West.
The meaning of 'resettlement' for them was just getting a few poles and tarpaulins. There was not even drinking water. They are kept almost like slaves under the watch of the Sinhala military.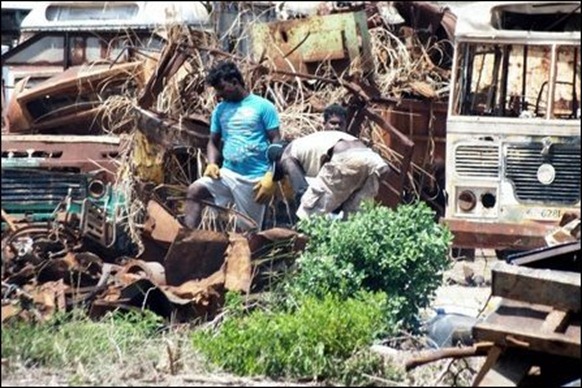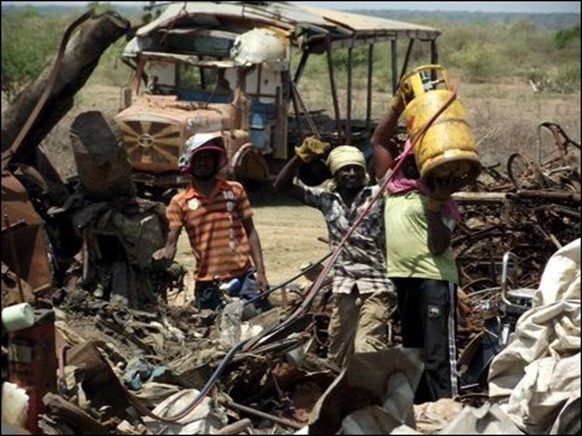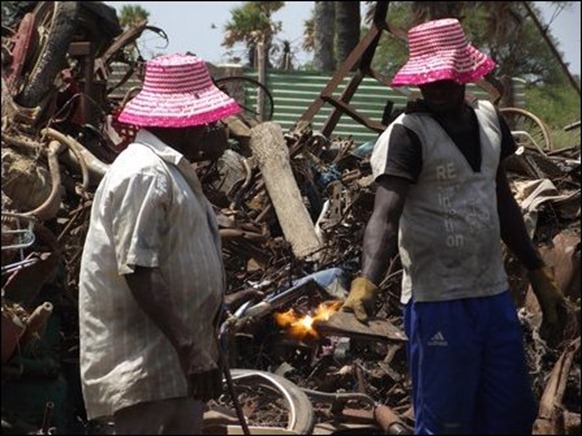 (For updates you can share with your friends, follow TNN on Facebook and Twitter )