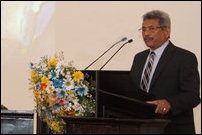 Defence Secretary Gotabaya Rajapaksa said though the military presence in the north had been drastically reduced, troops would continue to remain at strategic locations for security reasons but their presence will be non-intrusive.
"The number of troops deployed and the number of camps remaining in the North and East has also been reduced to a bare minimum. Twenty eight battalions have been relocated in the South and East. The overall number of troops in the North has been reduced by more than 21,000 since 2009.
Troops will remain in strategic locations for security purposes, but their presence will be non-intrusive. The day-to-day maintenance of law and order has been handed over to the police," Mr. Rajapaksa said.
He made these comments speaking at the inaugural sessions of the 'Defence Seminar 2012' for lasting peace and stability with special focus on 'Reconstruction, Resettlement, Rehabilitation, Reintegration and Reconciliation (5Rs)' at Colombo Galadari Hotel. Several state administrators, academics, military leaders and resource personnel from here and abroad attended.
Mr. Rajapaksa speaking on the 5Rs described the ample gains that had been made by the government with the active support of the Army, which has now transformed from their fighting roles to protector roles.
The Army-initiated seminar held for the second successive year was attended by about 300 delegates, drawn from more than 43 countries including representatives from US, India, Pakistan, UK, China, Bangladesh, Brunei, Malaysia, Australia and Indonesia.
Mr. Rajapaksa spoke of the various challenges and obstacles that had to be overcome in the implementation of the programme for restoration of normalcy in the North and East.
(For updates you can share with your friends, follow TNN on Facebook and Twitter )