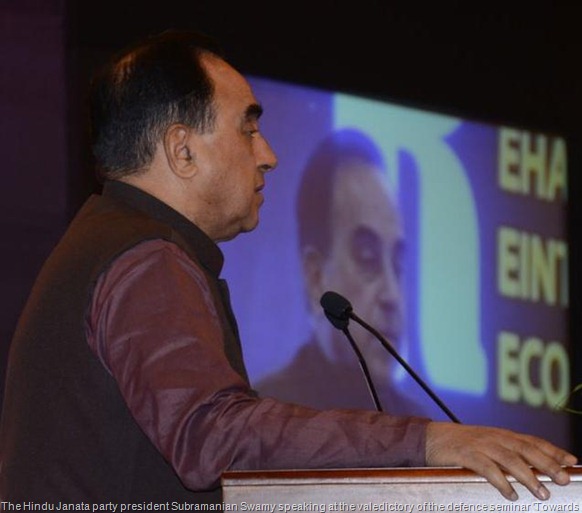 It will be much easier to fight Sri Lanka's enemies abroad, if there is some devolution of powers to the Tamils areas in the near future, Janata Party president Subramanian Swamy said in Colombo on Friday.
Calling upon Tamils to recognise the victory over the Tamil Tigers as their victory, he said that the victory achieved in May 2009, should not be diluted by distractions. Condemning the many moves to impose from abroad, a solution in the name of reconciliation between the minority Tamils and majority Sinhalese in Sri Lanka, Janata Party president Subramanian Swamy said that a proposal for this "must emerge indigenously in Sri Lanka after full democratic consultations with the stakeholders, none of whom shall have a veto, and adopted by the Sri Lanka Parliament by way of a resolution or if necessary by constitutional amendment."
Touching upon the much-ridiculed 13th Amendment to the Sri Lankan Constitution, which is seen in Sri Lanka as a solution imposed on it by India, he said that any more changes required to this Amendment should be debated and passed by Parliament. "The final reconciliation proposal should be based on this Proposal, after adopting further amendments, to enhance or curtail the provisions of the 13th Amendment," he said, at the valedictory of the Defence Seminar, 'Towards Lasting Peace and Stability,' in Colombo.
The Constitution should have enough provisions and safeguards so that the autonomy is not misused. India too had such provisions, he said and added that the Parliament should have power under the Constitution to dismiss and take over the administration of a state for specified contingencies such as a state being unable to enforce the relevant provisions of the Constitution.
Treading on another contentious question, he said that police powers too, should be granted to provinces, like in India. But, oversight mechanisms should exist at the Central level to make sure that these powers are not misused. "The Head of the state government will have primary responsibility to maintain public order through a state police constituted for this purpose, but the Union shall have a Central Reserve Police and a contingent of the Armed Forces stationed in a special conclave in the state to intervene for the maintenance of public order whenever the President determines with ex-post approval of Parliament that a situation has arisen that requires such an intervention," he said.
Dr. Swamy met President Mahinda Rajapaksa on Thursday and discussed post-war issues. He told Mr. Rajapaksa that by defeating the Tamil Tigers, Sri Lanka had done India a favour.
(For updates you can share with your friends, follow TNN on Facebook and Twitter )