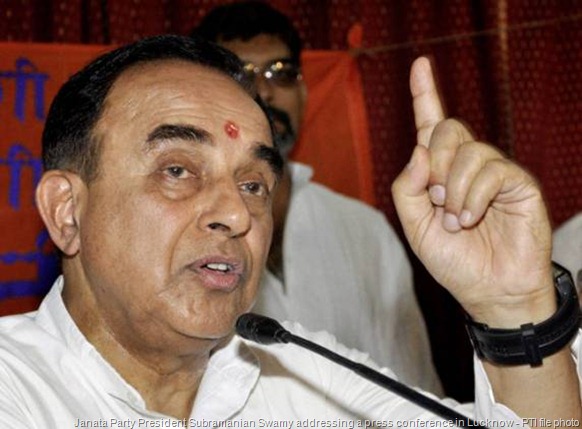 Janata Party President Subramanian Swamy on Saturday asked Chief Minister J Jayalalithaa to visit Sri Lanka to 'help foster Sinhala-Tamil' reconciliation as he took jibes at DMK chief M. Karunanidhi for going 'bankrupt' on ideas on the Sri Lankan Tamils issue.
"I urge Chief Minister J. Jayalalithaa to visit Sri Lanka and help foster the Sinhala-Tamil reconciliation instead of engaging in competitive Tamil sectarian chauvinism with Karunanidhi who is now bankrupt of ideas," he said in a statement.
Swamy, who had earlier visited Sri Lanka to attend a seminar besides meeting the top brass of the island nation government including President Mahinda Rajapakse, said a visit by Jayalalithaa will promote reconciliation.
"The Sinhala-Tamil animosity based on the bogus British imperialist Aryan-Dravidian divide has plagued the two communities and this needs to be rectified now," he said.
A visit by Jayalalithaa to Sri Lanka at this juncture will promote reconciliation and foster India-Sri Lanka bonding, he added.
He warned Karunanidhi against any talk of 'Eelam', saying it would attract action under Indian Penal Code including abatement of secessionist forces against Sri Lanka, which 'is a friendly country (to India)'. (PTI)
(For updates you can share with your friends, follow TNN on Facebook and Twitter )