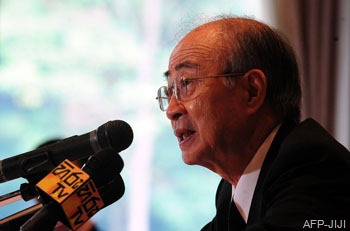 Senior envoy Yasushi Akashi has told Sri Lanka's President Mahinda Rajapaksa that Japan is willing to help his country improve relations with the West, which have been strained over human rights and war crimes accountability issues.
In a news briefing Saturday, Akashi said he told Rajapaksa in a meeting earlier the same day that Japan is "willing to assist in the efforts to develop the relationship between Sri Lanka and the international community."
Western countries are concerned about human rights abuses committed by government forces during the final stages of its long war against ethnic minority Tamil separatist rebels.
Sri Lanka has recently softened its stance on these matters, with Rajapaksa publishing an action plan for national reconciliation incorporating the recommendations of his Lessons Learned and Reconciliation Commission.
Akashi said he welcomed the completion and release of the action plan and that Rajapaksa expressed commitment to its implementation as well as the need for national reconciliation and economic development in Sri Lanka.
"I reiterated the importance to take effective measures for the action plan and demonstrate visible outcomes to the international community as scheduled," Akashi said.
Akashi, who arrived in Colombo on Tuesday, has met with political leaders from the government and opposition, senior government officials, and representatives of civil society and religious organizations.
He also flew to the war-scarred north, where he noted "visible improvements" since his previous visit to the island.
(For updates you can share with your friends, follow TNN on Facebook and Twitter )