As the Sri Lanka Navy arrested 54 Australia bound asylum seekers fleeing from the island on a boat on Thursday and hauled them off to the CID for interrogations, Australia's Greens Party Senator Lee Rhiannon condemned the Australian Coalition's political position to deport refugees from the island before they set foot on Australian soil as being "immoral, discriminatory, cruel", referring to the routine violations of the Tamils' basic rights in the island. "It is not surprising that people are looking to escape from Sri Lanka," she told TamilNet. "Reports of the systematic abuse of Tamil women political prisoners and prisoners-of-war by the Sri Lankan armed forces are extremely disturbing," she further said, alluding to TamilNet's feature on genocide-intended sexual violence perpetrated by the Sri Lankan military and police on ex-LTTE female cadres.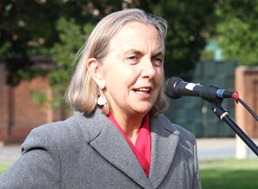 The Sri Lanka Navy has claimed that among the arrested are 47 Tamils, 5 Sinhalese and 2 Muslims, hailing from Jaffna, Vavuniyaa, Colombo, Ki'linochchi, Mullaith-theevu and Trincomalee.
The Coalition in Australia lumping all asylum seekers from the island as 'economic migrants' is either an act of ignorance or deliberately downplaying the structural genocide that the Eezham Tamils face under the Sri Lankan state, commented an Eezham Tamil activist in Australia.
Responding to questions sent by TamilNet regarding the debate in Australian political circles on the asylum seekers' issue, Greens Senator Lee Rhiannon had the following to say:
"The Greens condemn the Coalition's stance. It is immoral, discriminatory, cruel and goes against Australia's international obligations."
"Anyone who comes to Australia has a right to apply for asylum and their application should be judged on a case by case basis. A blanket position like this is very wrong."
"If the Coalition looked carefully at reports coming in from Sri Lanka they would be aware that there continues to be disturbing evidence of people disappearing. Families and friends are left in the dark as to their well-being. Also there are worrying reports about and sexual violence against Tamil women."
"Reports of the systematic abuse of Tamil women political prisoners and prisoners-of-war by the Sri Lankan state's security forces are extremely disturbing."
"Further, one of the most important feature of democracy, press freedom, is absent."
"It is not surprising that people are looking to escape from Sri Lanka."
(For updates you can share with your friends, follow TNN on Facebook and Twitter )