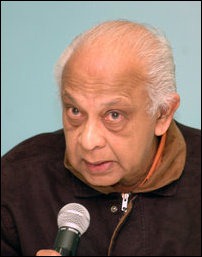 "Just like the apartheid in South Africa was isolated through the tightening grip of trade, cultural and sporting sanctions; just as the freedom struggle was aided by international support-moral, financial and political; so too a new international campaign for equal rights and justice in Tamil Eelam and Sri Lanka must be brought into being," says Samuel Wainwright, one of the leaders of the Socialist Alliance in Perth, Australia, who recently organised a solidarity seminar in Perth. A new network, named 'WA Network for Human Rights in Tamil Eelam and Sri Lanka' has come into being following the seminar held on 01 September in Fremantle, he said.
Nearly fifty participants heard a presentation by Dr Brian Senewiratne at the seminar titled "Human rights under attack in Sri Lanka".
Commenting further on the meeting, Mr. Wainwright said that the appalling suggestion by Deputy Leader of the Opposition Julie Bishop that 'Sri Lankan' asylum seekers should be delivered into the hands of the Government of Sri Lanka without even looking at their claims underlined the importance of the newly formed network in Perth.
The Socialist Alliance was the leading organisation protesting against CHOGM in Perth on 28 October 2011.
The new campaign group grew out of discussion between activists, both Tamil and non-Tamil; about the desperate need for a campaigning initiative open to members of the Diaspora and the wider community, Wainwright further said.
The new group will take up the cause of all exploited and oppressed people in Sri Lanka and Tamil Eelam regardless of their religion or ethnicity; but without compromising on the fundamental right of the Eelam Tamils to self-determination.
The group has put out a draft "Charter for Human Rights in Sri Lanka and Tamil Eelam" for which it's gathering feedback and supporters.
"Australian society remains largely ignorant of the reality on the ground. Furthermore the government and much of the media have promoted the completely implausible idea that the so-called 'end of the war' in 2009 would bring a significantly improved human rights situation," another activist of the new network told TamilNet.
Refugee Rights Action Network activist Phil Chilton explored the the business and geo-political interests behind the Australian government's support for the Rajapaksa regime.
The meeting discussed how the bipartisan support for "stopping the boats" in Australia inevitably leads to tacit support for Rajapaksa's reign of terror.
Chairman of the Australian Tamil Congress Professor Raj Rajeswaran detailed how his organisation has given extensive presentations to a large number of federal parliamentarians about the situation.
The meeting also discussed a campaign to call for a boycott the 2013 CHOGM to be held in Colombo.
"Canada is threatening not to attend the meet, but Julia Gillard has so far ruled out doing the same," Mr Wainwright said.
In addition to CHOGM 2013, the group discussed promoting a boycott of Sri Lankan cricket and tourism; and a campaign to ban all military trade and cooperation with the Rajapksa regime.
Presentation by Dr. Brian Senewiratne's follows:
(For updates you can share with your friends, follow TNN on Facebook and Twitter )