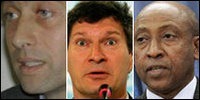 A report filed by an independent researcher based on eye-witness accounts from twelve United Nations humanitarian workers during the last phases of war ending in May 2009 on the policies implemented by Colombo, leading to starvation, deprivation of medical supplies, indiscriminate bombings of hospitals and schools in violation of UN Security Council resolution 1612 amounting to war-crimes and crimes against humanity, accuses the United Nation's officials' inaction, failure to speak out and willingness to acquiesce with the Rajapakse government's rights violations and state sanctioned killings of tens of thousands of unarmed civilians. Professor Boyle commented that Tamils should push for a UN independent commission similar to that which produced the hardhitting UN Rwanda report, and to avoid Srebrenica type report which was an inside UN job and hence was a coverup.
PDF: Report on UN complicity in Sri Lanka HR violations
PDF: UN Security Council Resolution 1612
Julian Vigo, a volunteer working in Haiti after the earthquake in January 2010, and who wrote the report says she was chosen as she was "not politically or economically tied to any one organization in Haiti where the report was written. Also Vigo has not worked in Sri Lanka.
Vigo interviewed eleven humanitarian workers who were posted with various agencies within the United Nations and one Internews staff member. Some of the twelve witnesses "resigned their posts, stating they could not ethically continue working in a capacity which was creating civilian deaths," the report adds, identifying some witnesses by names.
Vigo also points out that the UN Panel of Experts report failed to include the written 'exit' reports of staff which contained "crucial ethical violations of its [UN's] own offices."
While highlighting Colombo's policy that was intended to eliminate the LTTE without regard to the high civilian killings, where the narrative appears to provide incriminating evidence of Colombo perpetrating "acts committed with intent to destroy, in whole or in part, a national, ethnical, racial or religious group," the report also points to UN Officials criminal responsibility in breaching their duty to act.
Professor Boyle commenting on Vigo's report said, "we already have several stories on Tamilnet where I condemn UN Complicity with GOSL genocide against the Tamils. This is just further confirmation of it. You [Tamils] could try to pressure the UN Secretary General to appoint an Independent Commission to Investigate the Role of the UN during the Vanni Massacre. That would probably require a member of the US Congress to introduce legislation to that effect and threatening to withhold the US share of UN dues if the SG does not. This is how reports were produced on the UN role in the Srebrenica genocide and the Rwanda Genocide."
Excerpts from the report follows:
"Sri Lankan government policy of blocking supplies to the north, under the auspices of stopping all rebel supplies throughout the conflict was utilised as the government's cover for starving the civilian population."

"While the transport of arms is a valid concern for any government, he maintains that the ongoing attacks on civilians, hospitals, schools and the human rights abuses of children were all acts about which agencies such as UNHCR and UNICEF tacitly remained silent.

"suddenly these reports [1612 reports which detail human rights abuses] stopped being processed and that the necessary reviews of each report by committee were also ceased. In short, the 1612 mechanism failed. The filing of these reports was to ensure that certain abuses were not taking place, abuses such as the recruiting of child soldiers, maiming and murder, and attacks on hospitals and schools. This measure was enacted and carried out in Sri Lanka and the only authority ultimately responsible for safeguarding this measure and its implementation is the UN Security Council."

"…members of the Sri Lankan government partially made up these 1612 committees; hence members of the government would investigate its very own structure. Equally problematic, these committees which examine the 1612 violations were appointed on the basis of dialogue between the United Nations and the local government, a process for which there was absolutely no transparence."

"One UNICEF Protection Officer discusses how UNHCR was aware that the Sri Lankan army engaged in human rights atrocities in violation of the Security Resolution 1612 as villages were destroyed and schools and hospitals attacked. Natalie Grove, a former UNICEF Child Protection Officer who worked in Sri Lanka in the last months of the conflict, documented 11 separate incidents of attacks on or near hospitals and medical facilities in the Vanni between 15 December, 2008 through 15 January, 2009.

"Grove also drafted a briefing note entitled "Humanitarian Situation in Kilinochchi and Mullaitivu Districts: Newly Arrived IDPs in Mannar, Vavuniya and Jaffna" (3 April 2009) which documents 1612 Violations. In this briefing, there are 27 incidents reported to UNICEF of these violations which range from illegal shelling most of which point to the Sri Lankan Army as the perpetrator. There were also reports of violations allegedly committed by the LTTE (The Liberation Tigers of Tamil Eelam), but no allegations have been verified.

"The consensus from every single informant with whom I spoke to on this subject is that many of the 20,000 dead in the final months was due to the failure in the system of the Resolution 1612 reports and their followup. There was a moral bankruptcy, according to every informant, of UNICEF's and UNHCR's role in keeping information of the atrocities marginalised and silenced while conterminously appeasing the Sri Lankan government."

"One UNICEF officer told me of a study made on malnutrition in Sri Lanka; however this study was stopped midway through, according to this informant, because the study demonstrated that malnutrition increased rather than decreased after the UNHCR presence."

"James Elder told The Australian newspaper, "The nutritional situation of children [in the camps] is a huge concern for UNICEF, and restrictions on access hinder our ability to save lives," Elder's comments do match the realities presented by these other UN workers whose experiences narrate how these UN agencies acted in complicity —albeit it a passive complicity—with the abuses of the Sri Lankan government."

The report, in conclusion says, "[a]ccording to all twelve informants here, the key players within UN agencies have not suffered any repercussions for the delinquency of their professional duties towards the mission of their respective agencies. The top senior level players to whom they refer in Sri Lanka are namely Philippe Duamelle, Amin Awad, Neil Buhne and Andy Brooks. Each of these men has either been shifted in duty station or given a significant promotion with absolutely no inquiry into the repeated End of Mission reports which do clearly put these men's actions and ethics into question."
(For updates you can share with your friends, follow TNN on Facebook and Twitter )