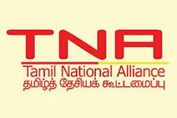 India is observing the developments with regard to the Divi Neguma Bill dubbed by many as an attempt by the government to take over powers devolved to the provincial councils under the 13th Amendment to the Constitution, the Tamil National Alliance (TNA) said yesterday.
The TNA delegation returned to Sri Lanka on Sunday night after talks with Indian Prime Minister Manmohan Singh and External Affairs Minister S.M. Krishna.
TNA parliamentarian M.A. Sumanthiran told Daily Mirror his party briefed the Indian leaders about the circumstances that led to the stalemate in talks for the evolution of a political solution.
He said the government should agree to have bilateral talks with his party to reach a consensus on the proposed political solution and pointed out that the government, as agreed earlier, should pursue such talks based on the five documents, which have been prepared earlier on proposals for power sharing.
The Mangala Munasinghe Select Committee Report, three documents prepared in 1995, 1997 and 2000 by the former President Chandrika Kumaratunga's Administration and the majority report produced by the All Party Representative Committee (APRC) have been agreed upon for consideration as the basis for talks.
"We can participate in the Parliamentary Select Committee (PSC) only if the government agrees to continue with bilateral talks. Any agreement through such talks can be put forward for consideration by the select committee," Mr. Sumanthiran said.  
When asked whether the TNA had brought the Divi Neguma Bill to India's attention, he said his party' delegation referred to it to drive home the point that the Sri Lankan Government instead of devolving power was working in the exact opposite direction.     
"India knows about this Bill," Mr. Sumanthiran said and added that India was fully committed to the full implementation of the 13th Amendment as the basis for a future power devolution arrangement.  
TNA MP Suresh Premachandran who also participated at meetings with Indian leaders said India was observant about Divi Neguma Bill.
"I do not think the government  is genuinely interested in power devolution," he said. (Kelum Bandara)
(For updates you can share with your friends, follow TNN on Facebook and Twitter )