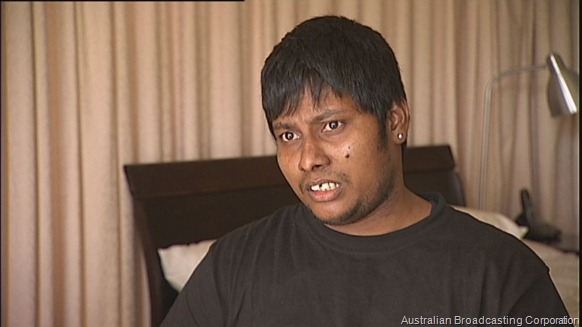 Leading academic and lawyer, Professor Ben Saul, says Australia does not deserve a seat in the UN Security Council because Australia is breaking international law by keeping refugees in indefinite detention and failing to keep them safe.
Transcript
EMMA ALBERICI, PRESENTER: By the end of the week a vote in the UN General Assembly will decide whether Australia's $25 million campaign for a seat on the Security Council has been successful.
A leading academic and lawyer though says Australia has shown contempt for the United Nations and doesn't deserve a place on the Security Council.
Professor Ben Saul claims Australia is not only breaking international law by keeping genuine refugees locked up indefinitely, it's flouting a guarantee made to the UN to keep them safe.
That's because one of those refugees, a brain-damaged torture survivor, was allegedly assaulted by guards inside Sydney's Villawood Detention Centre.
A psychiatrist with 41 years' experience describes his treatment as the worst he's ever seen.
Kerry Brewster has this exclusive report.
KERRY BREWSTER, REPORTER: This is Premakumar in Sri Lanka aged 20, not long after his family brought him home, brain-damaged and already psychotic, a result, as Australia accepts, of the beatings by soldiers that put him in a coma.
NEIL PHILLIPS, COMMUNITY PSYCHIATRIST: After he came back from the torture camp and was brought home by his family when he regained consciousness, he was in a terrible state.
KERRY BREWSTER: Dr Neil Phillips, a community psychiatrist for 41 years, knows Premakumar's history.
NEIL PHILLIPS: It's just awful sight to see someone after torture like that.
KERRY BREWSTER: Now 29, he's been locked up since his arrival here in 2009, despite being given refugee status. A genetic eye condition has left him nearly blind. Lateline secretly filmed an interview with him two months ago. He pleaded for his freedom.
PREMAKUMAR, SRI LANKAN REFUGEE (voiceover translation, August): It's traumatic being locked up. It's mental torture for me.
KERRY BREWSTER: Premakumar is among 38 Tamil refugees whose indefinite incarceration has been challenged by Professor Ben Saul. He lodged a formal complaint with the UN's Human Rights Committee in August 2011, arguing Australia is breaking international laws by detaining them indefinitely because of adverse ASIO security assessments.
BEN SAUL, UNIVERSITY OF SYDNEY: Well I don't think any Australian can have confidence that these people are risks to security as long as the cases remain secret and no evidence has been presented to any tribunal or court to demonstrate that they are a security risk.
Because a fair hearing in this kind of security process is not just about protecting the human rights of the person, it's also about making sure that the security decision is right, that the intelligence is not marred by error or grudges or torture or other forms of unreliability which sometimes leads security agencies to get it wrong.
KERRY BREWSTER: As their long detention is inflicting serious mental illness, Professor Saul argues it amounts to inhumane treatment, also illegal under international law. So desperate are the refugees that several have already attempted suicide.
BEN SAUL: One of our clients tried to electrocute himself, another tried to kill himself by drinking bleach. Another one cut himself and yet another tried to overdose on drugs.
KERRY BREWSTER: Yet despite their serious mental health issues, the Government has apparently stonewalled the UN case. In February it missed the UN's six-month deadline to provide a submission to the Human Rights Committee. Then after being granted an extension to July, it missed that too.
Australia then told the UN it must wait until the end of this year, 16 months after the original complaint was lodged and after the committee meets to consider the case in November.
BEN SAUL: Australia has refused to comply with the procedures of the United Nations Human Rights Committee. I think this shows a real disrespect and it's hard to say why other countries would want to vote for us if we're not going to respect the United Nations itself.
KERRY BREWSTER: For each day that passes, Premakumar's condition worsens, according to his psychiatrist.
NEIL PHILLIPS: He's extremely distressed. His condition has deteriorated and deteriorated.
KERRY BREWSTER: Despite the Government's assurances to the UN that it would maintain the physical and mental well-being of the refugees, Lateline's been told that it has failed to protect Premakumar from physical harm too.
Late one night in March he was taken by ambulance from Sydney's Villawood Detention Centre to Liverpool Hospital's emergency.
NEIL PHILLIPS: I saw him a few hours before. He was – I was actually talking to his brother mainly about some of his brother's medical problems which I was trying to help with. And he was playing with a telephone and dialling the reception again and again and again and making funny noises over the phone. Later he also said to me that he'd wanted to sleep in a tree that night.
KERRY BREWSTER: Reportedly that evening Premakumar was finally coaxed down from the roof of a shipping container. According to another detainee, that was when a group of security guards began to assault him.
DETAINEE (male voiceover): "About seven SERCO officers were manhandling him. One had him by the neck. Another pushed him onto the concrete floor and they punched him. Then they took him into an empty cottage where they kept punching him."
NEIL PHILLIPS: What I heard was that he was crying, he was vomiting, he was wetting his pants during and after the beating and he was in a terrible state. And in my view, whatever sort of beating he got and for whatever reason he got it, it's done him an enormous amount of harm.
KERRY BREWSTER: Premakumar remained in Liverpool Hospital some days before he was returned to Villawood. Dr Phillips describes his incarceration as torture.
NEIL PHILLIPS: His illness is steadily being made worse by a government policy that to me makes no sense whatsoever. And whatever treatment he's getting doesn't work because every day they're making him worse.
I see it as the equivalent of – in a physical sense of burning someone with a red hot poker in the morning and then applying nice, clean dressings for the rest of the day and then the next morning you burn them again. That's, to me, the equivalent thing that's going on and I think it's absolutely frightful and in 41 years it's the worst thing like that that I've ever seen.
KERRY BREWSTER: Six months ago, Premakumar's legal advocates requested an investigation into his alleged bashing. They say their request was denied, but the Immigration Department told Lateline, "Claims that a client was assaulted and suffered serious injuries in March this year are completely untrue. One client was taken to hospital for medical treatment on the night in question, but the Department is unable to disclose further details on privacy grounds."
And the UN is still awaiting a response from Australia. When Prime Minister Julia Gillard made her recent pitch to the General Assembly for a seat on its Security Council, she praised Australia's impeccable record of service to the international body.
JULIA GILLARD, PRIME MINISTER: This is what Australia will do: we will act.
BEN SAUL: Australia's trying to demonstrate to the world that it's a good international citizen as it seeks a seat on the United Nations Security Council and at the same time it's tearing down the UN human rights system which Australia helped to build after the Second World War.
KERRY BREWSTER: Last night the Government said a retired judge would review ASIO's security assessments, but ASIO will still have the right to disregard the judge's recommendations.
Kerry Brewster, Lateline.
EMMA ALBERICI: And the Government has said tonight it's finalising its submissions in response to the complaints.
The Attorney-General's Department released this statement to Lateline:
– The Australian Government takes its human rights obligations very seriously.
– Human Rights complaints to the UN can only be made once all domestic complaints process have been exhausted – as domestic litigation was taking place directly relevant to complaints lodged by Professor Saul, the Government advised the Committee that it would need to await the outcomes of that litigation to be able to respond to the complaints.
– As that domestic litigation concluded on 5 October 2012, the Government is now finalising its submissions in response to these complaints.
(For updates you can share with your friends, follow TNN on Facebook and Twitter )