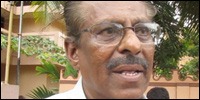 Answering a question put by media in Jaffna on Monday, whether a Pakistani intelligence outfit is in the making in Jaffna, the TNA parliamentarian and one of its leaders, Maavai Senadhirajah said that they are aware of the news, but New Delhi knows more about it. During the talks in New Delhi earlier this month, the TNA was able to sense that India knew more on the matter, the Tamil parliamentarian said. The TNA will come out with its views once the details are known and verified, Mr Senadhirajah further said, when the media asked him about unconfirmed reports that Pakistan's intelligence plans to open an official outfit in Jaffna city, named as Pakistan Information Centre.
Answering another question whether the TNA has made any approach to China, requesting its intervention in finding solutions to the national question in the island, Mr Senadhirajah said that so far no such request had been made.
But we expect China to facilitate righteous solutions to Eezham Tamils in the spirit of Mao's ideology that stood with oppressed peoples, the MP said.
A delegation of TNA leaders, consisting of five parliamentarians, R. Sampanthan, Mavai Senadhirajah, Suresh Premachandran, Selvam Adaikkalanathan and M.A. Sumanthiran met the new Chinese envoy Mr Wu Jianghao at China's embassy in Colombo on last Wednesday.
According to news reports the TNA requested China to help stopping SL militarisation of the Tamil country in the island, and the envoy in turn advised the TNA to find solutions with the Colombo government without third party involvement.
The TNA meeting the Chinese envoy with the consent and blessings of New Delhi is viewed in the island as a significant development, news sources in the island said.
(For updates you can share with your friends, follow TNN on Facebook and Twitter )