The visit of the Chinese ambassador in Colombo, Wu Jianghao, to Jaffna on Thursday was conspicuous of the SL military intelligence protection he was getting, perhaps the highest a foreign visitor to Jaffna was getting in recent times, news sources in Jaffna said. Usually, SL police in the peninsula or ministerial level security officials provide security to visiting foreign dignitaries. But, top officials of the SL military were looking after the security arrangements to the Chinese envoy. In giving protection, he was surrounded by more than 6 SL military intelligence officers, clad in civil clothes. The SL military intelligence personnel did not allow journalists to get closer or to interact with the visiting envoy.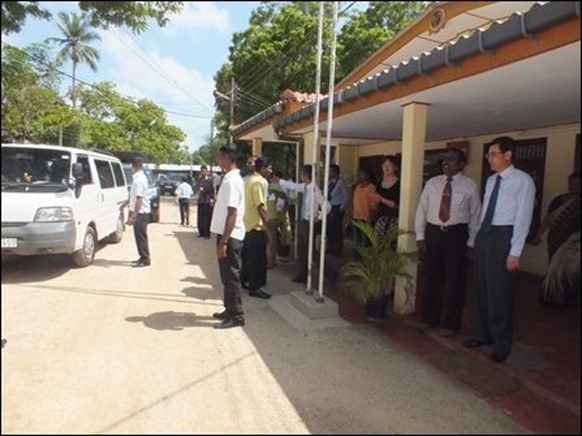 It looked as though China and occupying Sri Lanka wanted to send a message on the nature of their extraordinarily special relationship to impress upon Eezham Tamils, the news sources commented on the visual impression the visit had made.
Speaking in Jaffna, the ambassador said that the Chinese aid is of a different nature from what India gives, and they should not be compared. Aid, in whatever way and from whatever sources, is a matter of welcome for the affected people in the North and East, he added.
The Chinese-assisted road construction projects in Jaffna would be successfully concluded soon, he said.
The envoy visited the Jaffna Public Library to donate one million rupees (about 7700 US dollars).
He met various groups of people and visited the SL-government controlled Municipal Council to meet the Mayor.
The Chinese ambassador's visit to Jaffna followed his meeting with a parliamentary team of the TNA at the embassy in Colombo on Wednesday.
The TNA was favourably signalled by India for this meeting, informed circles said.
During the meeting, when the TNA requested China to help stopping SL militarization of the Tamil country in the island, the envoy in turn advised the TNA to find solutions with the Colombo government without third party involvement.
Sri Lanka couldn't have won the genocidal war against Eezham Tamils without the generous firepower assistance that was coming from China, is the view of many military analysts.
After the war, China's aid priority in the North and East was concentrating on building cantonments and camps for the occupying Sinhala military.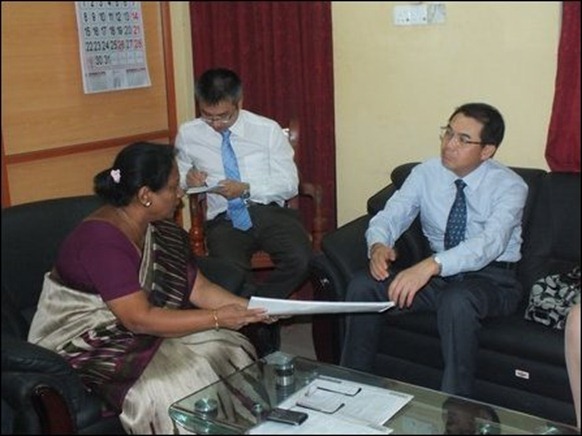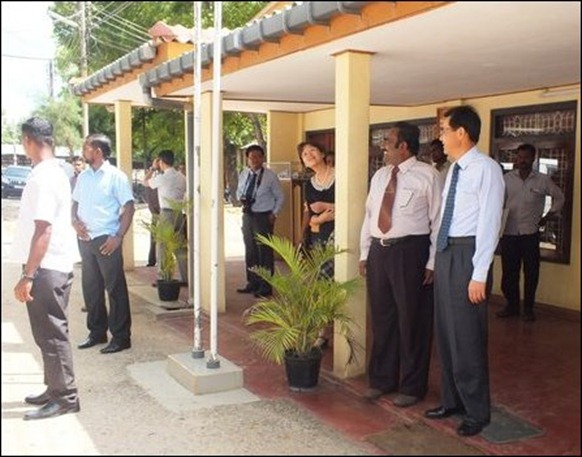 [Full Coverage]
(For updates you can share with your friends, follow TNN on Facebook and Twitter )