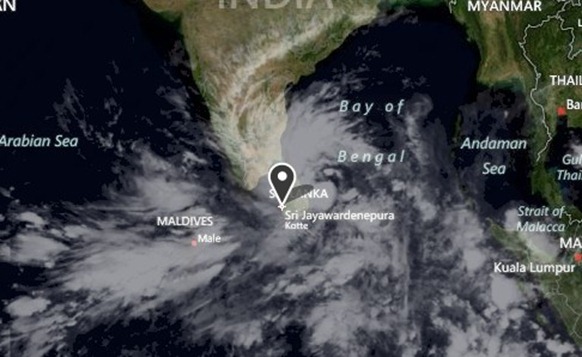 Authorities have lifted an evacuation order as a cyclone heading towards the island changed course early on Tuesday and headed towards neighbouring India, the Disaster Management Centre (DMC) said.
Thousands of people living within 500 metres (550 yards) from the coast were asked to move inland, but instead of making landfall the cyclone changed direction towards the south Indian coast of Tamil Nadu, said the DMC.
"Although we did not suffer the full impact, there was a storm surge and in some places the waves were three metres (10 feet) higher than normal," DMC director Sarath Lal Kumara said. There were no reports of casualties.
The local meteorological department said a deep depression in the Bay of Bengal had caused the cyclone, with wind speeds of up to 80 kilometres (50 miles) an hour.
However, when the cyclone was within 100 kilometres from Sri Lanka's northeastern coast, it had changed direction and headed towards India.
Heavy winds and rain killed 19 people in the island's south in November last year.
Sri Lanka depends on monsoon rains for irrigation and power generation, but the seasonal downpours frequently cause death and damage to property. (AFP)
(For updates you can share with your friends, follow TNN on Facebook and Twitter )