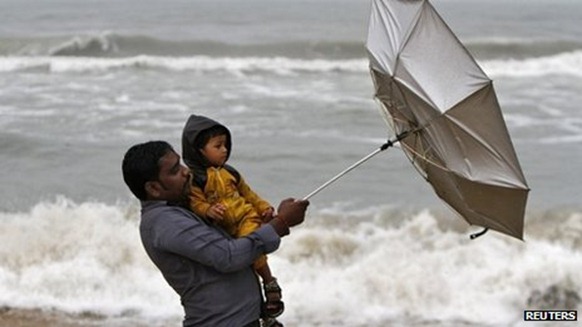 At least 4,000 people are in displacement camps after being affected by floods in Sri Lanka linked to a tropical cyclone which is heading for southern India.
But the worst of the storm failed to hit Sri Lankan territory directly.
Cyclone Nilam is expected to hit India on Wednesday night.
With wind speeds reaching 100 km/h (60 mph), Cyclone Nilam could make landfall on Tamil Nadu state and also hit the state of Andhra Pradesh.
Schools, colleges and cargo operations at the port in Tamil Nadu's state capital, Chennai, have been shut.
Fishermen in both states have also been warned not to venture out to sea.
India's weather department has warned that "damage is expected" when the cyclone makes landfall anywhere between Nagapattinam in northern Tamil Nadu and the Nellore district in southern Andhra Pradesh on Wednesday evening.
It said in a statement that the storm could damage huts, trees and power and communication lines.
The storm is also likely to damage crops like rice, groundnut and maize in coastal districts of Tamil Nadu and rice and groundnut in coastal Andhra Pradesh, the statement said.
Authorities in the two states have been put on alert ahead of the storm.
Reports say over 300 schools and community centres in Chennai have been kept ready to receive people evacuated from the path of the storm. Control rooms have been opened in the vulnerable coastal districts of Andhra Pradesh.
Meanwhile in Sri Lanka disruption is at its greatest in Mullaitivu in the north-east and Gampaha on the west coast. In the north, the Red Cross has been distributing tarpaulins, mats and mosquito nets. Strong winds and showers are still prevalent in the north and east.
The BBC's Charles Haviland in Colombo says that people in areas hit by heavy fighting at the conclusion of the war in 2009 have been badly affected.
They include Tamil families who left the huge Menik Farm refugee camp when it was closed a month ago and who have been living in makeshift accommodation since then.
In December 2011, more than 30 people died and many homes were damaged after a cyclone struck near the southern Indian town of Pondicherry.
(For updates you can share with your friends, follow TNN on Facebook and Twitter )