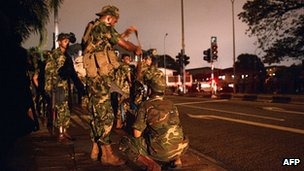 David Cameron is being urged by MPs to consider boycotting next year's Commonwealth summit in Sri Lanka in protest at its human rights record.
The Commons Foreign Affairs Committee said it was wrong for Colombo to host the heads of government meeting amid reports of continuing "serious abuses".
The PM should not attend unless he had clear evidence of progress, it added.
UK officials said it was too early to decide on the matter but it expected Sri Lanka to honour its commitments.
In a report on the UK's relationship with the 54-member organisation, the cross-party committee said there were "serious questions" about whether the next Commonwealth Heads of Government Meeting (CHOGM) should be taking place in Sri Lanka.
'Frequent violations'
Canadian Prime Minister Stephen Harper has already said he will boycott the biennial event in November 2013 unless Sri Lanka's human rights record improves. MPs applauded his "clear and forthright stance" and urged Mr Cameron to follow suit.
"We conclude that continuing evidence of serious human rights abuses in Sri Lanka shows that the Commonwealth's decision to hold the 2013 CHOGM meeting in Colombo was wrong," they said.
"The UK prime minister should publicly state his unwillingness to attend the meeting unless he receives convincing and independently verified evidence of substantial and sustainable improvements in human and political rights."
A 2011 report by the Foreign Office cited "frequent" human rights violations – including terrorist suspects being held without charge for long periods, reports of torture in custody, restrictions on freedom of expression and little progress in investigating disappearances of political activists.
Earlier this month, 27 prisoners were killed during clashes at a prison in Colombo. Opposition parties claim it was a massacre but the government says the deaths happened in exchanges of fire during a riot after prisoners obtained and used weapons.
At least 100,000 people died in the 26-year war between government authorities and Tamil separatists which ended in 2009.
There are still no confirmed figures for the number of civilian deaths in the final stages of the conflict but UN investigations said it was possible up to 40,000 people had been killed in the final five months.
A United Nations report leaked to the BBC on Tuesday suggested that the Sri Lankan government had intimidated UN staff at the end of the conflict – claims it denies – and that the UN failed the civilian Tamil population in the final stages of the conflict.
'More visible'
Giving evidence to the committee earlier this year, Commonwealth Secretary General Kamalesh Sharma said there was little prospect of it reconsidering the summit venue.
During a visit to the country in September, Mr Sharma offered Commonwealth support to help Sri Lanka strengthen its institutions to focus on upholding human rights and press for reconciliation and economic development throughout the country.
The Foreign Office said it was "too early" to talk about what presence the UK would have at the meeting.
"We will look to Sri Lanka to demonstrate its commitment to upholding the Commonwealth values of good governance and respect for human rights," a spokesman said.
"A key part of this will be to address longstanding issues around accountability and reconciliation after the war."
In their report, the MPs said the Commonwealth's commitment to protect and enhance its values had given it a "distinctive role" in the international community but its moral authority had too often been "undermined by the repressive actions of its member states".
In principle, the MPs said they backed the creation of a commissioner for human rights, democracy and the rule of law but stressed the Commonwealth Secretariat – its executive body – must be more visible and increase its global influence.
(For updates you can share with your friends, follow TNN on Facebook and Twitter )