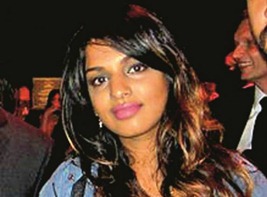 "Art is something that should not be confined to the four walls of a gallery but taken to the masses," says M.I.A., the British artist-cum-singer now in Kochi to be part of the Kochi Biennalle. The outspoken bold singer who doesn't fail to surprise even once and is known for her thrilling performance at the 51st Grammy awards — where she performed while she was nine months pregnant — M.I.A. can't wait to be part of India's first major art event.
"I want to use art as a vehicle to bridge the gap between the east and west," says the British artist-cum-singer of Tamil descent, as she contemplates a new dawn in Indian art with the upcoming Biennale. The youngster who collaborated with A.R. Rahman for the song O Sayya… in Slumdog Millionaire is upbeat about being a part of anything India, especially Kerala; and she has a special reason for that. "My first album, Sunshine, was pictured here years ago," says M.I.A., who has a not-so-enviable past attached to her.
Daughter of Arul Pragasam, a Tamil Sri Lankan engineer who played an active part in the civil war there, her childhood in Jaffna was marred with painful sights of torture in the hands of Sri Lankan soldiers. The family that was taken to India by Arul soon shifted to the UK where M.I.A.'s mom worked hard to bring up her two kids while her father fought for Tamil rights in Sri Lanka. M.I.A. even addressed her father who came visiting them to India as 'uncle,' so as to hide his identity. A trained artist, M.I.A. came into the limelight in 2004 for her singles, Sunshowers and Galang. She has been nominated for two Grammy awards and the Mercury Prize. She released her debut album, Arular, in 2005, and the second album, Kala, in 2007; both to universal critical acclaim. M.I.A. recently released a book containing her works of art that are a melange of bright colours and flashy prints that truly define her as a person.
In the pages of her eponymous book, she explains the unifying impact technology, politics and fame have on her work. "Art has really evolved me as a person," says M.I.A., who doesn't believe in blindly following the West. "New India is so plastic. It's an irony that when the Western world too is taking lessons from ancient Indian wisdom, people out here are moving away from it."
(For updates you can share with your friends, follow TNN on Facebook and Twitter )