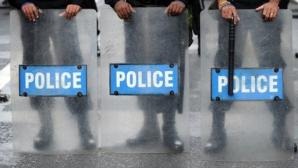 Students in Sri Lanka's former war zone clashed with troops and police Wednesday over celebrations to commemorate defeated Tamil Tiger guerrillas, residents said.
At least 20 undergraduates were injured when troops and police beat up stone-pelting students outside Jaffna university, a witness said.
It was first major clash since security forces crushed Tamil rebels in May 2009.
Police and troops had stormed university dormitories on Tuesday searching for Tamil Tiger propaganda after students tried to mark "heroes' week" — the last week of November when Tiger guerrillas used to commemorate fallen comrades.
"The students gathered inside the university and came out to protest the military action (of Tuesday) when fighting erupted (on Wednesday)," a witness said, asking not to be identified.
He said the vehicle of a local Tamil legislator was also damaged as he tried to stop the violence.
There was no immediate comment from the military, but the AdaDerana news website published photos soon after Tuesday's military raid of the campus along with one image of a student on the ground being beaten by three policemen.
Tuesday's incident degenerated into a bigger confrontation on Wednesday as students protested at the military intrusion into their hostels, leaving more than 20 students injured, witnesses said.
Sri Lanka lifted a state of emergency in August last year after defeating Tamil Tigers in May 2009, but heavily armed troops and paramilitary police units are often deployed to support police.
Jaffna, the cultural capital of the island's ethnic Tamil minority, was once run as a de-facto separate state by the Tigers.
The latest clashes between the troops and students came amid international calls to de-militarise Jaffna, 400 kilometres (250 miles) north of Colombo, and ease restrictions on the civilian population.
(For updates you can share with your friends, follow TNN on Facebook and Twitter )