Sri Lanka's permanent representative at the UN, Palitha Kohona, brought resident representatives of the UN in 13 countries, including Japan, Italy and South Africa to Jaffna on Satuday. The team during its visit was shown with a fabricated civil society that praised the 'development' of Colombo in Jaffna, news sources in Jaffna said. The team held talks with the occupying SL governor in the North, Maj. Gen G.A. Chandrasri and the supporters of the EPDP collaborating with Colombo, who were presented to the visiting team as the 'civil society' of Jaffna. However, the visiting UN representatives, while speaking to the Bishop of Jaffna said that had an impression of the true situation as they had already met the TNA and various others in Colombo.
As Sri Lanka is soon going to be a topic for discussion at Geneva, the Colombo Establishment is keen in canvassing member states of the UN, news sources said, citing the visit of representatives from the Non-Aligned bloc and the visit of British parliamentarians to Jaffna in recent times.
Mudiyappu Remedious who had contested the Jaffna Municipal Council in the TNA ticket and had later become an SL government supporter, was one of those who has been presented as a civil society member.
Mr Remedious is alleged of involvement in the attempted murder case of journalist Kuhanathan.
Besides Remedious, the others who were presented as the 'civil society' included EPDP members, Colombo supporters and the Jaffna University Vice Chancellor, Prof Vasanthi Arasaratnam.
There were coordinators of the EPDP-built 'associations': Mr. Rushankan of media association, Mr Selvavadivel of education development association and former Hartley College principal Mr. Sripathy, who contested civic elections on EPDP ticket and lost, but has now become a member of the Jaffna University Council.
They all argued that normalcy has returned to Jaffna and that the SL government id engaged in a number of development programmes.
There was also an engineer, Mr. Suriyakumaran, who is said to have returned to Jaffna from the diaspora after 40 years. He now works for an engineering firm called Eurovile in Jaffna. He testified that 'development' is now accelerated in Jaffna at a scale hitherto unforeseen in the last 40 years.
Meanwhile, the Centre for Peace and Reconciliation (CPR) that met the UN team at the Bishop's House told the visitors that the SL government only practices duplicity in its speech and deeds.
Development without consent and participation of the people of the land is meaningless, they told the visitors.
The CPR cited the situation at the University of Jaffna as an example for the duplicity of SL government talking reconciliation but worsening the situation by its deeds.
The Tamils in the island are further and further driven to opt for agitation and uprising by the acts of the SL government, the CPR told the visitors.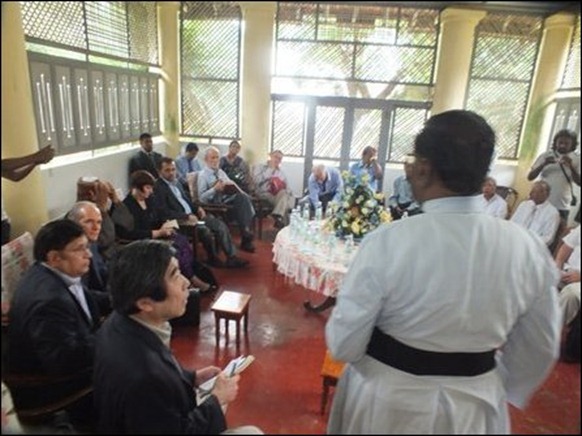 Religious leaders and representatives of Centre for Peace and Reconciliation in Jaffna address UN representatives visiting Jaffna at Bishop's House
(For updates you can share with your friends, follow TNN on Facebook and Twitter )