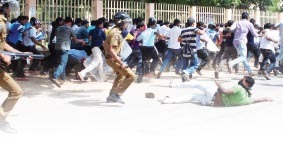 The heading is inspired by S. L. Gunasekera (his letter to BASL, 28.11.2012) where he asked the Bar Association of Sri Lanka (BASL) "to oppose this [impeachment] madness of the incumbent government," adding that he continues to support the government.
The Sinhalese in collective have been content to sit back and watch as our government literally took Tamils apart – perhaps 70,000 according to the recent Petrie report. A year ago their intelligentsia went after the previous UN Panel, with Jayantha Gunasekera, PC, trying to pass a resolution against its report at the BASL even before it was out. It was a fait accompli anyway and passed as soon as the report was released.
The BASL's decision last week to not support any new CJ is laudable but there is a lot more wrong with the country as well as with the BASL. The CJ matter is merely symptomatic. For example news reports say that the goverrnment imported racing cars worth $100 million, paying no duty. But far more importantly, how can a young man just starting life on a government salary (whose father too is on government salary) pay $100 million as alleged? The Sunday Leader (06.03.2011) records Prabha Ganeshan saying that Basil Rajapaksa "promised Rs. 20 million to him and another UNP cross-over," P. Digambaram; supposedly for development work. Ha! The sumptuous meals at Temple Trees, vulgar lifestyles at 5-star hotels, foundation on vain men, and the free flow of liquor at public expense can all be explained away through entertainment budgets from parliament. But the $100 million is more difficult. Thinking people like Gunasekera must reevaluate their support.
However, as public opinion builds up against the insane government, Marwaan Macan-Markar has opined that while the CJ's supporters are "few and far from the required critical mass … [muscle and power on the streets are still controlled by the well-oiled Rajapaksa political machine".
Tamil Powerlessness
Imagine then the powerlessness that Tamils feel when the Sinhalese intelligentsia feels so helpless. I recall August 1970 when violent Sinhalese policemen were on punishment transfer in Jaffna as if to say, "If you are driven to beat up people, then go beat up Tamils".  Standardization was taking form with 28 bonus marks added to every Sinhalese aggregate before determining university admission. It was the time frustrated Tamil youth began pelting policemen with stones and would soon break up the SLFP office and bomb Alfred Duraiappah's car.
Recent events at Jaffna University where students were assaulted by the army and later pelted soldiers with stones the next day, replay old times. To be expected but scarier are recent incidents in Puthukudiiruppu. A Tamil man was keeping four women, exploiting the gender imbalance since the war crimes. All four were chopped to death by a group imposing Tamil virtue. In the same place an old man was supplying Tamil women to the Sinhalese. He and a soldier were also chopped up. In Jaffna , The Island reported, a Sinhalese worker fooling around with women was killed when he arrived at a set-up tryst.
Similarly, recent reports tell of a Tamil robber gang in Jaffna that is on hire as killers.  They had state protection. When a police official got court sanction to shoot to kill, he was promptly transferred. Some have since taken the law into their hands and disappeared parts of the gang.
Tamilwin.com reports that this has the support of the people of Jaffna . But how different is that attitude from what the army did to Tamils in Mullaitivu? From BASL going all out to condemn the Ban Ki-moon Panel's report to cover up murder of civilians and vigilante execution of the LTTE leadership?
The Tamil medium is being eliminated from the good universities in the South as we powerlessly watch. Eliminating Tamils from professional schools teaching in English, however, needs alternative strategies. Accordingly Jaffna gets a ramshackle engineering faculty when in all of Sri Lanka there are only three Tamil engineering PhD holders of working age. Ruhuna's Engineering Faculty was built, for buildings alone, at a cost of Rs. 900 million (in 1998 the dollar cost Rs. 68 as against Rs. 128 today). But Jaffna 's Engineering Faculty has only an allocation of Rs. 250 million in today's rupees. It has been located in the jungles off Kilinochchi by a decision of the government and army, backed by the EPDP Vice Chancellor and Council. This despite my recommendations as UGC Coordinator, supported in writing by those such as Professors K. K. Y. W. Perera and Lakshman Ratnayake, that to be successful the Faculty must be in Jaffna to exploit the business environment and private housing so as to use the limited funds for building teaching space. (The sum I requested for buildings and equipment was a mere quarter of the car imports and was told there is no money).
The distance rule implies that students from the North who now are sent to Peradeniya, will be shunted into a cattle shed off Kilinochchi with few or no PhD level teachers. Touché.
Colonization of Kilinochchi: Counter Violence
It is no secret – and government parties have been explicit – that the plan is to have all parts of the country settled by all communities. Jaffna cannot be so easily converted but Vavuniya is now almost taken care of and Kilinochchi can easily follow.  Thus locating Engineering in Kilinochchi deprives Tamils of Peradeniya training and prepares Kilinochchi for colonization. The Vavuniya Campus was exclusively Tamil four years ago, but now the Sinhalese figures are 48 percent in Applied Science and 70 percent in Management with the balance shared between Muslims and Tamils. The direction for Kilinochchi is clear.
Frances Harrison, citing World Bank data, says that 101,748 Tamils are unaccounted for during the last months of the war from Mullaitivu. Many men having died or fled since, the women are easily exploited.
Reports allege that in Visuvamadu, Piramanthanaaru and Kumarasaamypuram, 100 Tamil women have been forcibly married to one Sinhalese soldier whose women are then given extensive facilities including ration cards. I find this credible, given the number of Tamil women made pregnant by Sinhalese and workers in the Kilinochchi area. A female native physician shyly testifies to the many women who come to her for abortion and contraception after illicit unions.
Tamil Subservience
In 1970 when four of us boys were assaulted for no reason by berserk policemen, one of us on the first slap pleaded "Sir, Sir" and was let off.  Two of us who did not bend were brutally assaulted and I ended up with lumps all over my thighs from police boots.
We revolted for justice with little understanding of rights. The revolt, noble and ignoble at once, culminated in the massacres of 2009. And we have become meek servants.  In Jaffna the Tamil public 'Sirs' ill-educated soldiers. We are ruled from Colombo through Tamil quislings and an uneducated army.
We grumble that Gotabaya Rajapaksa summoned the Vice Chancellor and Deans of Jaffna University to Colombo . By what protocol can a Defence Secretary summon a VC appointed by the President and Deans? They meekly obeyed. If they had simply said that he needs to come to the university, they would have been a shining example to the 'Sirring' public.
For this madness to stop, the government gone mad and bad must stop. Thinkers like S.L. Gunasekera need to understand that human rights violations and the cultivation of fearful subservience are not ethnically oriented, but an assault on all citizens alike.
(By Prof S. Ratnajeevan H. Hoole)
(For updates you can share with your friends, follow TNN on Facebook and Twitter )