Eezham Tamils in France and UK demonstrated at the capital cities of the two countries on Friday, condemning the French government's lack of interest in bringing to justice the culprits behind the assassination of grassroots activist Nadarajah Mathinthiran alias Parithi. The demonstration in Paris being joined by hundreds of Eezham Tamils in France, also witnessed the participation of several solidarity activists, including members of the Kurdish diaspora. The protestors in the two countries were aghast at the absence of any action from the French government's side, with many wondering whether the French authorities were colluding with the Sri Lankan intelligence, sources from London and Paris told TamilNet.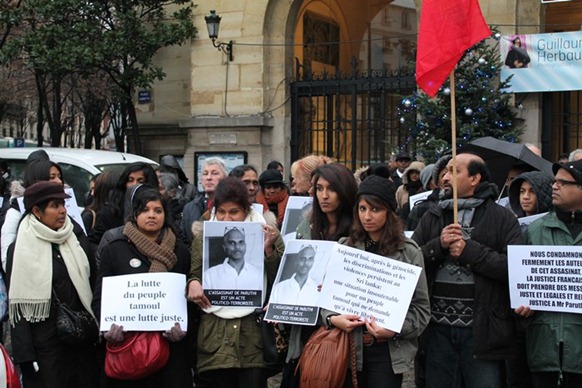 Protest in Paris
Protest in London
Mr. Parithi, a grassroots Eezham Tamil activist based in France who was well known among community circles in that country, was assassinated in Paris on 8 November. Eezham Tamil activists in France had alleged that this was a "psyop assassination" by the Sri Lankan intelligence targeting grassroots activists, with the intention of dissuading mobilization in the diaspora. Till now, no credible action has been taken by the French authorities to investigate the case, Tamil activists in France lament.
Speaking to TamilNet from the London protest, youth activist Sasithar Maheswaran said "One wonders how an individual on bail under surveillance could have been subjected to a sword attack in 2011 and shot dead in 2012 in public, with no one being charged. Eezham Tamils around the world are concerned about the possibility of French authorities colluding with Sri Lankan intelligence agents in this assassination."
A protest march was conducted in Paris, which started from Gambetta Town Hall and finished outside the Tamil Coordinating Committee (TCC) office in Paris. In London, Tamil activists demonstrated outside the French Embassy in Knightsbridge.
A common petition submitted by the TCCs of the UK and France to the French Embassy and the French Justice Ministry respectively claimed that Mr. Parithi's assassination was an indication of Sri Lanka to extend its genocidal campaign beyond the island.
Noting Mr. Parithi's key role in mobilizing for protests for the UNHRC Sessions in Geneva in March and September 2012, the petition drew a link between Sri Lanka's threats to activists in these sessions and the assassination.
"The assassination of Mr Mathinthiran is appropriately seen as the fruition of the threats noted during the UPR. It highlights the futility of the UN mechanism where even the most serious threats against those that have faith in the system are never taken beyond backroom documentation by member states, including permanent members of the Security Council such as France," the petition said.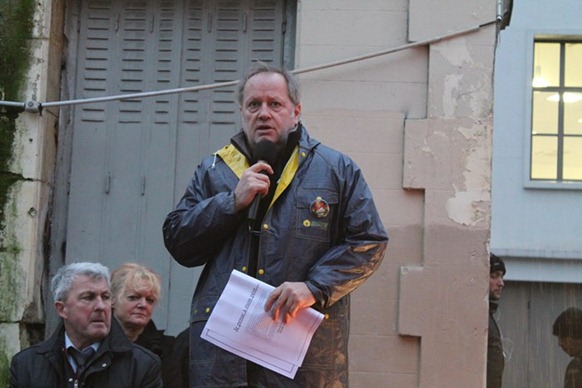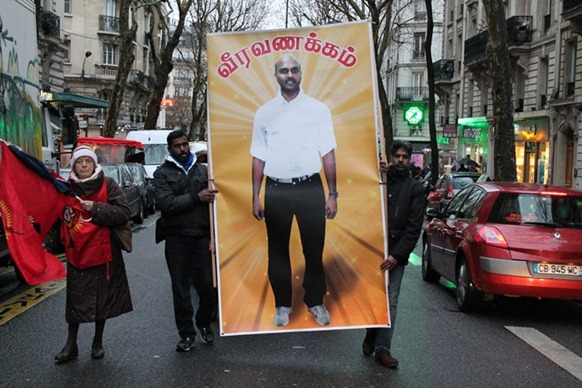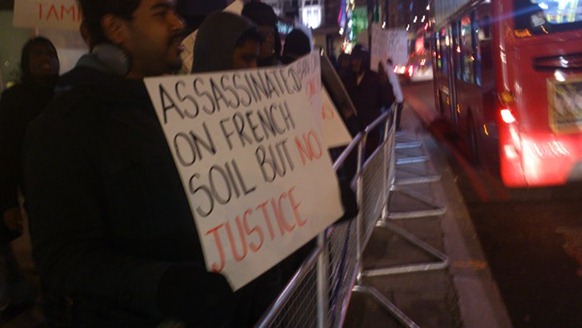 Protest in London
(For updates you can share with your friends, follow TNN on Facebook and Twitter )