Proving to the entire world, how a single mind as that of Gotabhaya Rajapaksa's, suffering from paranoia related to power and genocide but unchecked by the world, could take a realm of institutions and people such as a university, vice chancellor, education secretary, Bishop, military commander, deans, professors and students for a ride, the Jaffna University reopens for classes on Tuesday, sources in Jaffna said. At a meeting held by the VC of Jaffna University on Monday, student representatives and the university community decided to resume classes from 08 January, after an SL government intimidation was conveyed to them that if classes were not resumed immediately, the university would be declared closed for a year and then even after a year resumption would be doubtful.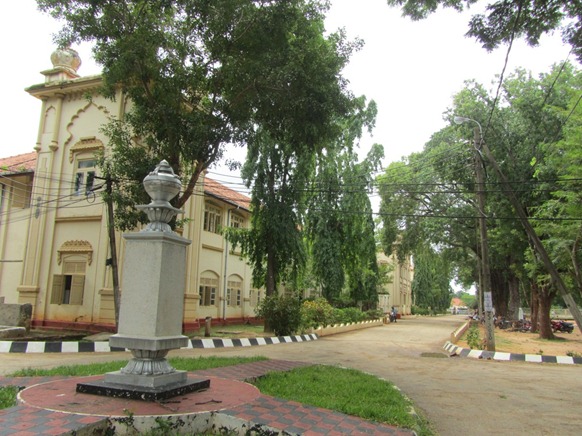 On Jaffna University matters, the SL Education Secretary J.B. Dissanayake was getting direct orders from SL Defence Secretary and presidential sibling, Gotabhaya Rajapaksa, informed sources said.
Releasing the students under detention, who stood for peaceful and democratic rights of students and of a people, was taken by Gotabhaya Rajapaksa as a personal challenge to his power and personality orientated to genocidal statecraft, informed sources further said, adding that there were intimidating bargains behind the screen.
A Jaffna university team met the SL Defence Secretary before meeting the Education Secretary.
The detained students would be released soon after the resumption of classes, the university circles were confident.
Student representatives announced that they would continue their struggle for their democratic rights and for getting the detained students released.
On Monday, the student representatives were allowed to speak to the detained students over the phone.
The detained students, kept under a 'rehabilitation' programme of the genocidal military, were heard advocating for the resumption of classes. But, the university community did not take this seriously as Sri Lanka's modus operandi on captives, doctors, victims etc., is known to every one.
Unless the sovereignty and right to self-determination of the nation of Eezham Tamils are not going to be specified and recognized by the world, oppression and human rights violations taking place everyday and continuing infinitely cannot be stopped under the existing State in the island, human rights activists in Jaffna said.
Meanwhile, a group in TNA specialised in legal matters was playing a questionable game in not using even the available avenues in the legal system of the genocidal State in filing suitable cases, the HR activists in Jaffna said.
The consent of parents is needed in filing such cases and the parents of two students who had come forward to give consent was in favour of TNA filing the cases. As the responsibility was with the TNA and as there were indications that the TNA would file the case, the other parties and civil rights movements kept quiet. But for unknown reasons, the TNA didn't file the case, the HR activists in Jaffna further said.
(For updates you can share with your friends, follow TNN on Facebook and Twitter )