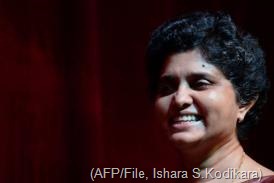 Sri Lanka's president appointed the government's senior legal adviser as a replacement for the impeached chief justice, despite protests by lawyers and a chorus of international criticism.
Mohan Peiris was sworn in before President Mahinda Rajapakse shortly after parliament approved his appointment with immediate effect.
"He was sworn in at the president's Temple Trees residence a short while ago," presidential spokesman Mohan Samaranayake said.
Peiris retired two years ago as attorney general, but has since been the senior legal adviser to the cabinet in addition to being a key defender of Sri Lanka's record at UN rights meetings.
Peiris' appointment comes after Rajapakse approved Shirani Bandaranayake's dismissal on Sunday, two days after lawmakers had voted for her impeachment.
Bandaranayake, who issued several decisions at odds with the government, has described the campaign against her as politically motivated.
Judges have declared the impeachment of Bandaranayake, the first woman chief justice, to be illegal and unconstitutional.
Even before Peiris took office, a local think-tank, the Centre for Policy Alternatives (CPA), filed a complaint in the Supreme Court challenging his appointment.
The CPA said in a statement that they were also asking the court to restrain Peiris from performing any official duties at the highest court in the country.
Lawyers protested the appointment too by lighting candles outside courts and saying it was the "death of the judiciary".
Peiris played a key role in defending Sri Lanka's rights record at UN Human Rights Council last year when the island faced strictures over alleged war crimes committed by its troops while crushing Tamil rebels in May 2009.
Police stepped up security at the superior courts complex Tuesday fearing a confrontation between supporters of Bandaranayake and loyalists of the new chief justice, police said.
Bandaranayake made no comment, but AFP photographers said they saw her leave the official residence along with two truck loads of personal belongings and move into her private home in the capital.
Rajapakse went ahead with the controversial impeachment of Bandaranayake despite appeals from the usually influential Buddhist clergy and some leftist partners in his coalition government.
The United States reiterated its concerns about the impeachment Monday when State Department spokeswoman Victoria Nuland said it raised "serious questions about the separation of powers in Sri Lanka, which is a fundamental tenet of a healthy democracy".
The move has also drawn criticism from the Commonwealth and Britain, the former colonial power.
Lawmakers found Bandaranayake guilty of tampering with a case involving a company from which her sister bought an apartment, of failing to declare dormant bank accounts, and of staying in office while her husband faced a bribery charge.
(For updates you can share with your friends, follow TNN on Facebook and Twitter )