US-based Dr Nagalingam Ethirveerasingam, the first president of the Global Tamil Forum (GTF), accepts an 'advisor' position to G.A. Chandrasiri, Sri Lanka's colonial governor and retired Major General of the war crimes accused SL military. The website of SL run Northern Provincial Council on Saturday indicated that Dr Ethirveerasingam is already functioning as Advisor on Education and Sports to the SL Governor. A doctorate in Agriculture education from the Cornell University in the USA, Ethirveerasingam, now 78, is also a recognised sportsman who represented Ceylon in the Olympics of 1950s.

The International Crisis Group (ICG) in its report no 186, dated 23 February 2010 on "Sri Lankan Tamil Diaspora after the LTTE", said that "hardliners in the GTF, such as the British Tamil Forum (BTF), have reportedly forced out the GTF president, Dr Nagalingam Ethirveerasingam, for moderating his stance on separatism" (page 14).
Rev Fr Dr S.J. Emmanuel replaced Dr Ethirveerasingam as the president of the GTF earlier in 2010.
In the post-war scenario, Dr Ethirveerasingam was interested in contesting elections in the island, informed political sources said.
He managed to find the space to work in Vanni on children and sports after the war.
Writing a comment in Groundviews website in 2008, Ethirveerasingam said:
"The Sinhala and the Tamil communities are like the right and left half of a brain. They were joined with a connective tissue, the "corpus collosum". Mr. B and his majority blocked communication between the two brains with the Sinhala Only Act in 1956. Mrs B and her leftists performed the surgery to cut the connective tissue in 1972. It is foolish for the right-half to pronounce that there is no left half and that both are one, the right. It is best not to harm each others independent existence until such time we are creative enough to grow a new connective tissue better than the old one, to make both halves benefit equally from each other."
Dr Ethirveerasingam in his recent comments has come out with appreciating words on TNA's nominated parliamentarian M.A. Sumanthiran.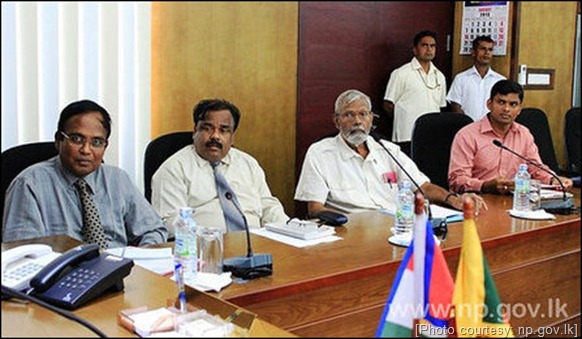 External Links:
np.gov.lk:
Discussion on Development of NP Sports Sector – 11 January 2013
(For updates you can share with your friends, follow TNN on Facebook and Twitter )