Certain key development programmes that would really benefit Tamils are manoeuvred by Colombo for its own agenda, implied India's Consul General in Jaffna V. Mahalingam, speaking to media in Jaffna on Wednesday. He was citing the example of Colombo sitting on the runway project making Palaali as an international airport. Mahalingam's citation is an indirect acknowledgement of the structural genocide that is being carried out by occupying Colombo over the Tamils, political observers in Jaffna said, adding that Sri Lanka's occupying Sinhala military only wants to permanently militarize and Sinhalicise the Palaali airport and its surroundings including the KKS harbour, sealing off direct communication of Tamils with India and the outside world.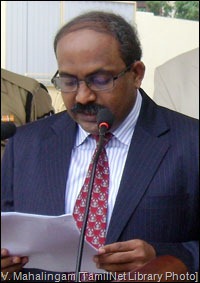 When the media in Jaffna asked Mr. Mahalingam whether the Palaali airport would be opened for flights to India, he said that the airport needs a minimum of 1350 metres of runway. Sri Lanka wanted to do the whole thing by itself, but later India was given permission for laying only 850 metres. Flights to India depend on who completes the remaining, he said, discouraging further questions on the topic.
Answering another question on the KKS harbour, whether it would be opened to the public and to commercial activities, Mahalingam said that India cleared around 10 sunken ships at the harbour within four months by giving the contract to a Singapore company and spending 20 million US dollars. India also plans to deepen the harbour from 4 metres to 8 metres, he further said.
He was also hopeful of the railway line 'linking' Jaffna with Colombo.
Mahalingam said that he is aware that there are encroachments of fishermen from India into the seas of the island. But the diplomatic mission is helpless, he said. It is a matter that has to be sorted out in the talks between the fishermen of both sides, he further said, adding that he was hopeful of positive outcome at the ministerial level talks to be held in New Delhi soon in this respect.
On the India-promised programme of 50,000 houses to the war-affected Tamils that has never been seriously taken off to this date, the Consul General said that India was able to sort out certain matters in this respect only recently.
Local partners for construction work have been identified and 11,000 houses would hopefully be completed within this year, he said, adding that India has also started direct disbursement of housing money in three instalments to those who want to build their houses on their own. 2648 people have already started getting the instalments, he said. Of the 50,000 houses, 42,000 would be built in the North, 2,000 in the East and 6,000 in the up-country, he further said.
The Sri Lanka government and its occupying Sinhala military are much smarter than New Delhi in the 'construction' activities, and New Delhi is either no match or is deliberately conniving with Colombo's genocidal constructions of Sinhala military bases, cantonments, rest houses, communication network and Sinhala-Buddhist stupas that take priority over the development of Tamil land for Tamils, political observers in Jaffna commented.
Even it may not have the capacity but if it's intentions are salient, New Delhi should at least openly acknowledge and tell it to the world that what is happening is not reconciliation or development but structural genocide. But New Delhi, like shielding the gravity of the genocide during the war, continue to do the same in the structural genocide too, political activists in Jaffna voiced their concern.
Mahalingam on Wednesday was distributing scholarships to schoolchildren in Jaffna in the names of Indian leaders and he made use of the occasion to speak to the media. Some of the scholarships were given in the name of Rajiv Gandhi.
Speaking to sections of activists in the diaspora, Indian diplomats express happiness over the diaspora renouncing violent polity. But many Eezham Tamils are not happy over India not reciprocating by eulogising the IPKF that committed war crimes on Eezham Tamils and by patronizing and training Sri Lanka's Sinhala military that committed and continue to commit genocide on Eezham Tamils.
Until 1978, the Palaali airport was running flights to Trichy and Chennai in India. 850 metres of runway is not a problem to fly small commercial aircraft, if there is will in India to open the communication between Jaffna and Tamil Nadu. Colombo's companies and its military have regular flights to Palaali many times a day.
Most of the Tamil diaspora would feel emotionally secure and contended if they could travel directly to Jaffna or via India, diaspora sources said.
Jaffna Tamils had their own passenger and commercial navigation from the KKS harbour to various ports in India up to Calcutta and even to British Malaya until the so-called independence.
Even a British Government Agent, who served in Jaffna for 35 years, felt in his heart that a railway line linking Jaffna with Colombo would affect the economy of Tamils depending on their own outside contacts, and in his time he concentrated on developing the harbours.
What New Delhi could positively achieve only will decide the long-term trust and relationship of Eezham Tamils with India, political activists in Jaffna commented.
On a practical side, they compared and cited the status of the refugees who went to the West and are now able to sustain themselves as well as their struggle, and the status of the gagged condition of the refugees who went to India.
(For updates you can share with your friends, follow TNN on Facebook and Twitter )