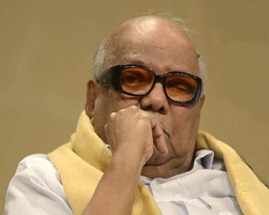 DMK president M. Karunanidhi has urged Prime Minister Manmohan Singh and UPA chairperson Sonia Gandhi to take steps to ensure that the Sri Lankan government gave up, what he called, its programme of erasing Tamil language, culture and religion. He sought their help in putting an end to alleged drive by Sri Lankan authorities to rename Tamil villages with Sinhala names.
In identical letters to Dr. Singh and Ms. Gandhi, Mr. Karunanidhi said many more such tactics were being employed by the Sri Lankan government. "Tamils in Sri Lanka are living in an oppressive environment," he alleged.
Bringing to their notice "disturbing developments" in Sri Lanka vis-à-vis the Tamils, he said: "The Sri Lankan government is now carrying out an intensive and systematic programme of erasing the Tamil language, culture and religion and diluting the concentration of Tamils in areas where they have historically been predominant. This manifests itself in the renaming of Tamil villages, redrawing of village, district and town boundaries, demolishing Hindu temples, non-allocation of funds to resettle and rehabilitate internally displaced Tamil families."
He said: "The Sri Lankan government is also not allocating funds to schools, hospitals and other infrastructure where the Tamils live predominantly. It is also promoting Sinhala settlements on Tamil land and Sinhalese take over of the economic life of Tamil areas, which impoverishes the Tamils, and the deployment of army camps to intimidate them." India had a moral obligation to stop this as it involved the eradication of a great culture and ancient religion in our backyard, he said.
Giving details, Mr. Karunanidhi said 89 villages had been renamed with Sinhala terms and 367 Hindu temples had been demolished. There were 148 mini and 13 main army camps in Mullaitivu district alone.
In Amparai district, the Tamil heritage village 'Potthuvil' was renamed as 'Pothuvila', and 'Thirukovil' was renamed as 'Srikovila' and 'Tharavaikulam' as 'Tharakkulam' while 'Vagarai' became 'Vagara' in Batticalao district and Nilaveli was renamed as Nilvaella, and Alankulam as Gemburuweva in Trincomalee district.
In Jaffna district, Vaddukottaii was renamed as Battakote and Paruththiththurai as Pethuruthoduva, and Nainatheevu as Nagatheeba. With name change, Kilinochchi became Granika, Mullaitivu Mooladoova and Vavuniya, Vannimava, he said.
Hails Rahul Gandhi
Mr. Karunanidhi on Sunday congratulated Rahul Gandhi on being appointed as vice-president of Congress and expressed the hope that he would take the party to a 'new height.'
(For updates you can share with your friends, follow TNN on Facebook and Twitter )