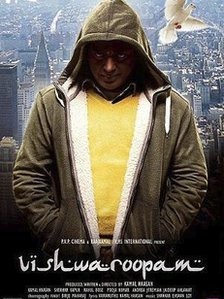 India's Tamil Nadu state has suspended the screening of a new film following protests from Muslim organisations.
They allege that Vishwaroopam, a spy thriller, "targets Muslims and their beliefs".
The spy thriller is directed and co-produced by Kamal Haasan. The film also features the star in the leading role.
Kamal Haasan has denied that his film denigrates Muslims. The film has been made in the Tamil, Telugu and Hindi languages.
The suspension came hours after about 20 Muslim groups petitioned the government objecting to the film and despite Haasan holding a special show for them, reports say.
"We intend to register our apprehensions that release of the film with (even) deleted scenes or changes will affect the social harmony and all-round peace in the state," Mohammed Haneefa of the Federation of Islamic Movements and Political Parties was quoted as saying by the Press Trust of India news agency.
Some reports quoting official sources said the suspension would be in force for two week to "maintain law and order" in the state.
In 2011, film exhibitors in Tamil Nadu banned a new film amid a row with neighbouring Kerala over a dam.
(For updates you can share with your friends, follow TNN on Facebook and Twitter )