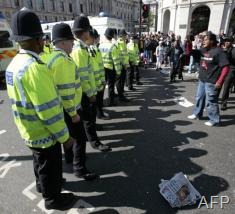 Dozens of failed Tamil asylum seekers who were due to be sent back to Sri Lanka on Thursday can stay in Britain after a court blocked their deportation over fears of torture, their lawyers said.
The High Court in London blocked the deportations at a last-minute hearing on Wednesday pending investigations into claims that the Tamils could face abuse if they were sent back to Sri Lanka.
Solicitor Kulasegaram Geetharthanan said the case involved some 40 Tamils, some of whom had links to the Tamil Tiger rebels who were finally crushed by Sri Lankan government forces in 2009 after more than three decades of civil war.
"Their cases are now being reviewed," he told AFP.
"There is a lot of evidence that these people could face torture if they are sent back."
The Sri Lankan government denies allegations that Tamils who have previously been sent home have been abused.
The UK Border Agency said it was "disappointed" by the ruling and would appeal against it.
"The ruling does not represent a blanket ban on returns to Sri Lanka," a spokesman added.
Geetharthanan, who is representing five of the Tamil asylum seekers, said his clients were currently being held in immigration detention centres and would apply for bail in the next week.
This is believed to be the first time that a British court has blocked the deportation of a group of Tamils to Sri Lanka, although many individuals have won similar cases over the last two years.
(For updates you can share with your friends, follow TNN on Facebook and Twitter )