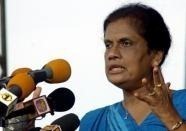 Ex-President Chandrika Bandaranaike Kumaratunga speaking at a ceremony to commemorate Vijaya Kumaratunga's 25th death Anniversary said the majority of today's parliamentarians comprise people who were not educated and who were known to be illegal businessman.
She said thugs could never be good politicians.
The ceremony which was presided over by Minister NandimitraEkanayake was held at the Shree Pushpadana Committee Room in Kandy.
"Thugs, murderers, criminals and those who send white vans in the night to take away their opponents can never be good politicians. The majority of parliamentarians today are those who rob the people of their money. There are a few people who aren't like that. Vijaya was one of them," Ms. Kumaratunga said.
She said some of the Parliamentarians were engaged in nefarious business deals and some tied people to trees. She said she had the good fortune to feed Parliamentarian Mervyn Silva's family including their helper for some time.
Ms. Kumaratunga said a person could not be confined to one political 'Party', since there are great people in all the political organisations in the country and therefore all such people should get together and form a National Government
She said they were short of money when VijayaKumaranatunge was in prison and he used to tell her that such and such film directors owed him money and to collect it.
"When I telephone them, they say hello and put the phone down. There are actors and actresses who used to come home and take money from him. There was good money in films and if Vijaya acted for ten, he did five of them free. That was Vijaya. He was always for the poor and down trodden and he changed the political scene for the poor people," she added. "During the ten years we were together, he had many financial difficulties."
Ms. Kumaratunga said she had to sell Horogolla lands and even gave money to the Rajapaksa's to campaign for elections. She said her father the former Prime Minister S.W.R.D. Bandaranaiake sold nearly five hundred acres of land for politics and she said that when her mother died, again more land was sold.
She added was living with the small amount of land she owned by managing them properly.
Ms. Kumaratunga said she was not ashamed to say she had sold land, since she never robbed any money. She said she never had a swollen head when she was the Executive President and added that it was reason she could go about country now with her head held high.
"There have been honorable politicians like late D.S. Senanayake, S.W.R.D. Bandranaiake, Sirimavo Bandaranaike, but those politicians are no more," she said.
Ms. Kumaratunga said there were politicians who went on bended their knees to the leader and this kind of behaviour worsening daily. She alleged that politicians were becoming subservient daily and that she could not understand why this was so.
"It is painful her to see what is happening in the country today," she said and added that she administered the country with the intention of crowning the people and did not want herself to be crowned. She said even during war, when she was administering the country its economy was stable. She said that the former Army Commander SarathFonseka knows how much of arms were brought into the country to fight the war and also that 'Kefirs' was brought at a cost of one hundred and fifty million rupees.
Even then I was able to raise the salaries of public servants five times," she said.
The former President said she worked for eleven to twelve hours a day and that she created the Presidential Task Force and did her best to develop the educational sector. By that there was amity among the people and a better system of education with good results.
"Education is in a mess and a muddle. There must be good hearts, good minds and a clear conscience if one is to achieve lofty goals," Ms. Kumaratunga said. (L.B. Senaratne)
(For updates you can share with your friends, follow TNN on Facebook and Twitter )