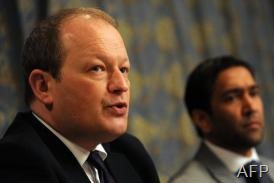 An English politician Friday urged the Queen to boycott the Commonwealth summit in Colombo later this year to protest against Sri Lanka's failure to prosecute the killers of a British tourist in 2011.
The MP Simon Danczuk said his constituent, Khuram Sheikh, was gunned down at a hotel in Sri Lanka's southern town of Tangalle on Christmas day in 2011, but 15 months on there was no progress in the case.
Danczuk, who was accompanied by the victim's brother, Nasir Sheikh, 40, on a visit to Colombo to press for justice, said Sri Lankan authorities had failed to deliver on promises to bring the killers to justice.
The main suspect in the killing, a local ruling party politician, was initially arrested, but later freed on bail. No date has been fixed for trial.
The MP said Sri Lanka as a member of the 54-nation bloc should uphold Commonwealth values and must be held accountable. He said senior Sri Lankan ministers refused to discuss the lack of progress in the prosecution.
"I will press for a boycott of the CHOGM (Commonwealth Heads of Government Meeting) in November," Danczuk said. "I will also write to the Queen that it would be inappropriate for her to attend at a time when this case is pending."
Nasir Sheikh said he had been assured by Sri Lankan authorities that there would be swift action against the perpetrators of his brother's murder, but he did not see any progress.
"I will do everything to ensure justice is done. I want my brother to rest in peace. I want answers for my parents who lost a son and I want to ensure that justice is delivered," he told reporters in Colombo after a two-day visit.
Khuram Sheikh, a British citizen of Israeli origin, was stabbed and shot dead at a beach resort on Christmas day of 2011. His Russian fiance was treated for serious injuries.
The MP's call for a CHOGM boycott came as Canadian Prime Minister Stephen Harper held firm on his threat to boycott the summit in Colombo for different reasons.
Canada is insisting that Sri Lanka deliver on promises to investigate war crimes allegedly committed by its troops while defeating Tamil Tiger rebels in May 2009.
(For updates you can share with your friends, follow TNN on Facebook and Twitter )