While the students of Loyola have been coerced to end their hunger-strike after their arrest in early hours of Monday, their three day fast has sparked off protests across Tamil Nadu. Students from colleges and universities in Chennai, Chidambaram, Chengalpet, Coimbatore, Kumbakonam, Trichy, Tanjore and Tirunelveli have begun mass protests condemning the pro-LLRC US resolution and urging for a referendum among the Eezham Tamils for a sovereign Tamil Eelam as the only just political solution. Grassroots mobilization that is not affiliated to any political party but based on correct concepts is credited to the success of these protests, sources from Tamil Nadu told TamilNet.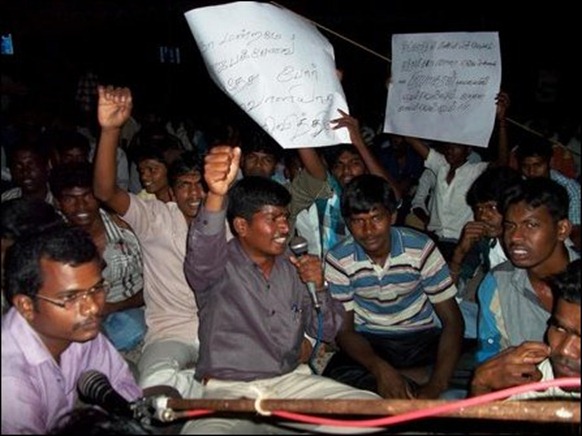 Students from Pachaiyappas and Ambedkar Law College in Chennai are organizing a sit-in within their campus grounds. They are expected to be joined by Nandanam Arts College and Presidency College tomorrow.
Law College students in Chengalpet, St. Joseph's students in Trichy and students of Annamalai University in Chidambaram are spearheading the protests in their respective places.
Despite pressure from a large posse of policemen to the protesting students in Chidambaram, the students have not stepped down. Following this, electricity to the venue of the protests was cut off.
Speaking to TamilNet, Thirumurugan Gandhi from the May 17 Movement, said "This protest has effectively challenged the general misconceptions in some political circles about the US resolution by stating clearly that the pro-LLRC US resolution is a humbug. Likewise, those debating only on "war crimes" have been challenged to accept what happened to the Eezham Tamils as genocide. This is definitely a milestone in Tamil Nadu students' protests for Tamil Eelam."
(For updates you can share with your friends, follow TNN on Facebook and Twitter )