Protest started by the Loyola College students in Chennai against an empty US resolution on Sri Lanka at Geneva and the Tamil Nadu State Government action against the protest, have triggered spontaneous statewide student uprising that is not depending on any political party, news sources in Tamil Nadu said. Students of instituions such as the Annamalai University in Chithamparam and St. Xavier's College, an autonomous university institution at Paa'laiyang-koaddai in Thirunelveali, have burnt the copies of the US draft resolution tabled at Geneva for discussion on Friday, saying that the draft only bails out the genocide-accused Sri Lankan State. Meanwhile, student protests took place in every part of Tamil Nadu and All Colleges Students Federation for the Liberation of Tamil Eelam has come out with a 9-point demand.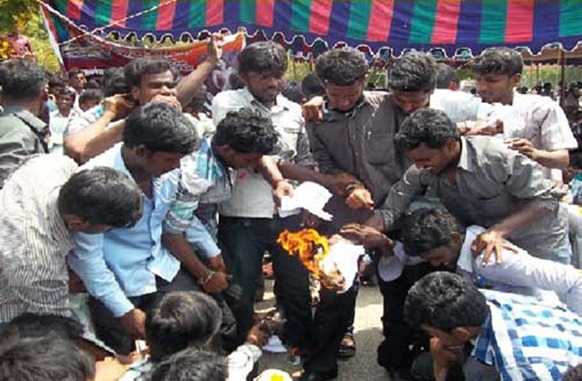 Students burning US resolution at Annamalai University
The students of Annamalai University and St. Xaviers College, who are also on a hunger strike, have urged the World Tamils not to be hoodwinked by any "constructive aspects" in any resolution that does not recognize a political solution on the basis of the nationhood of the Eezham Tamils, protestors told TamilNet.
Student protests and hunger strikes have begun in several towns and cities that are historically and geographically significant in setting trends in Tamil Nadu.
Political parties and certain sections that either tried to make benefits by association or tried to infiltrate and hijack were consciously kept out by the protesting students, who this time clearly drew the line between politics and peoples' struggle.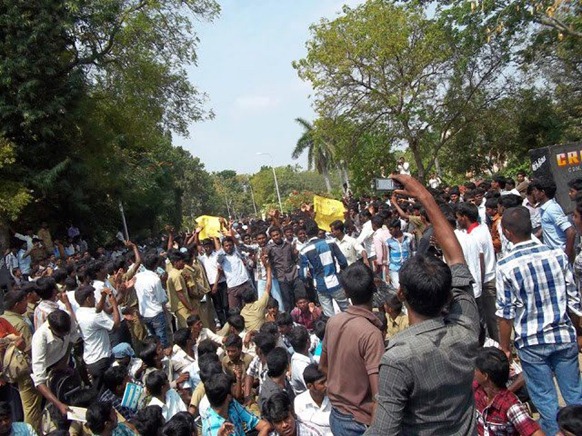 Students protest the draft US resolution at Annamalai University, Chidambaram
Reporting only a fraction of the statewide protests, Students of Chennai Ambedkar Law College, Chengalpet Law College, Thirunelveli Manonmaniam Sundararanaar University, Coimbatore Bharatiyar University, Coimbatore Law College, Salem Government Arts College, Pudukottai Mannar Government Arts College, Ramanathapuram Sethupathy Arts College, Athirampattinam Kadar Mohiudeen College, Puducherry Dr. Ambedkar Law College, Tirupathur Sacred Heart College, Vizhuppuram Deivaanai Ammal college and Tiruchy St. Joseph college have begun their protests against the US resolution, with many starting hunger-strikes calling for a UN referendum to determine the national question of the Eezham Tamils and calling for an independent international investigation into the genocidal war crimes of the Sri Lankan State.
Many other college students are also expected to join in the protests in the coming days.
Protestors from South Tamil Nadu told TamilNet that this upsurge of students' protests, which is happening with a conceptual basis, without affiliation to any political party, would deter those sections in the Tamil polity from toeing a line contradictory to the interests of the genocide-affected nation of Eezham Tamils.
* * *
9-point demand of All Colleges Students Federation of Tamil Nadu for the Liberation of Tamil Eelam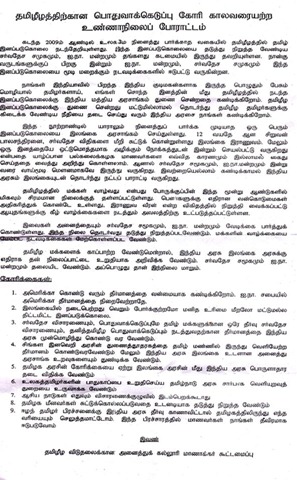 The demands put forward by the students
We strongly condemn the US-draft resolution. Do not pass it at UNHRC

What took place in Ilangkai [Sri Lanka] is not merely war crimes or violations of human rights, but planned genocide

International investigation and referendum are the only solutions for the Tamils. Government of India should propose a resolution to bring in international investigation and to conduct a referendum on independent Tamil Eelam.

A proposal should be made to remove the Deputy High Commission of the Sinhala chauvinistic State from the Tamil soil [Tamil Nadu]. India should severe all diplomatic relations with Ilangkai [Sri Lanka].

Government of India, accepting the request of the Tamil Nadu State Government, should implement economic sanctions on Ilangkai [Sri Lanka].

On behalf of the Tamil Nadu State Government, a foreign relations department should be created to assure the security of global Tamils.

No Asian country should be a member in the [international] investigation committee.

Killing Tamil Nadu fishermen should be stopped immediately.

If the Government of India is not finding solution to the question of Eezham Tamils, we will not pay any taxes from Tamil Nadu. We, students, will actively engage in this campaign.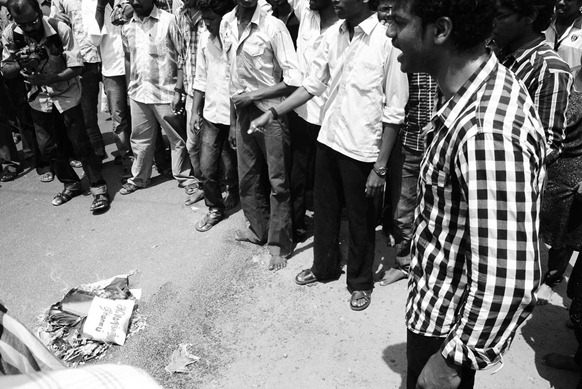 St. Xavier's College, Paa'laiyang-koaddai, Thirunelveali, a two century old autonomous university institution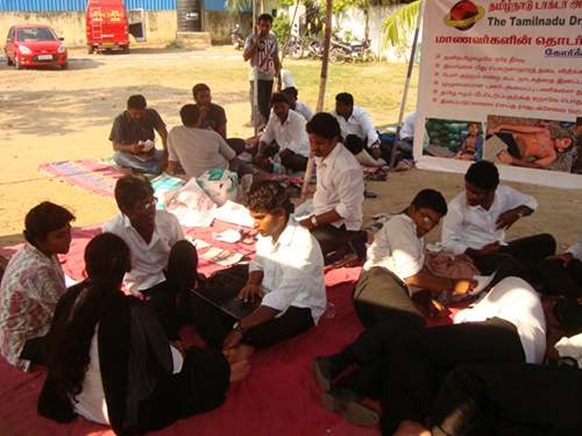 Protest at Ambedkar Law College, Chennai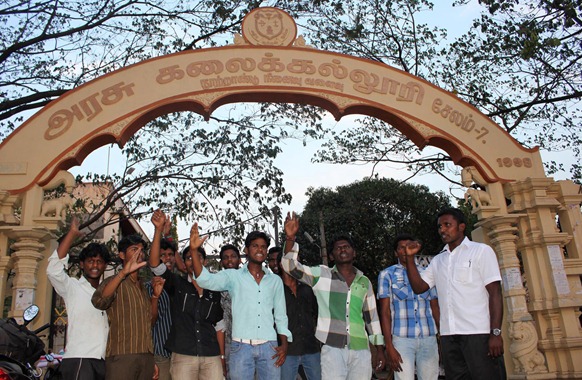 Government Arts College, Salem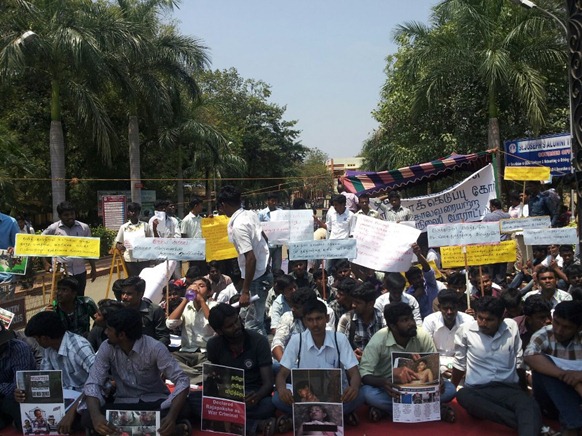 Thiruchi St. Joseph's College, a two century old autonomous university institution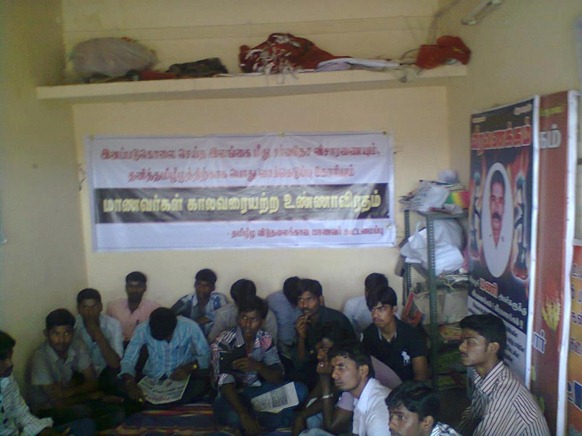 Thiruppoor
(For updates you can share with your friends, follow TNN on Facebook and Twitter )