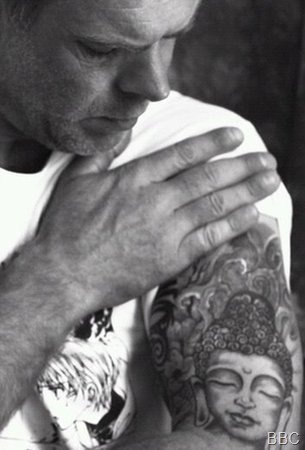 A British tourist is "shocked and upset" after being deported from Sri Lanka for displaying a Buddha tattoo on his arm, he says.
Antony Ratcliffe, 42, from Nottingham, was turned back at Colombo's main airport on Friday for allegedly showing a lack of respect for Buddhism.
The authorities are tough on perceived insults to Buddhism – the religion of the island's majority ethnic Sinhalese.
But Mr Ratcliffe says the "inoffensive" body art was meant as a tribute.
'Officer went crazy'
The Briton, a former infection control officer for the ambulance service and a keen amateur photographer, was stopped as he tried to leave Bandaranaike International Airport during a 12-hour stop-over en route from London to Malaysia.
Despite having a valid two-day tourist visa, Mr Ratcliffe said he was frogmarched to a detention area after immigration officials spotted the Buddha's head tattoo poking out from the sleeve of his T-shirt.
"As soon as he saw it the chief officer went crazy. You could see it on his face, he looked really angry and said I would have to go back to London," Mr Ratcliffe told the BBC.
An unnamed immigration official told a local newspaper that when questioned about the tattoo, Mr Ratcliffe had spoken "very disrespectfully" about Buddhism.
But the Briton says he remained calm throughout the proceedings.
"They took my passport and held me there for an hour and a half. All the time they were bringing people in to look at my arm, and they were shaking their heads.
"I was explaining my case, pleading basically, and the chief officer just told me to 'shut up, shut up' and he refused to talk to me."
"I like the artwork in tattoos obviously and, due to my belief in Buddhist philosophy which I have followed for many years, I thought a quality tattoo of the Buddha was rather apt.
"It wasn't something I took lightly or did on the spur of the moment."
Eventually, Mr Ratcliffe was allowed to continue his journey to Kuala Lumpur, but faced further questioning when he landed.
"The whole experience has been a shock – it has been upsetting and a waste of my time. I'm not taking it further, but when I saw they had accused me of speaking disrespectfully about Buddhism, I had to put my side of the story", he said.
More than 100,000 British citizens visited Sri Lanka in 2012, accounting for 10% of the total number of tourists. The UK is also the country's second-largest trading partner after India.
(For updates you can share with your friends, follow TNN on Facebook and Twitter )