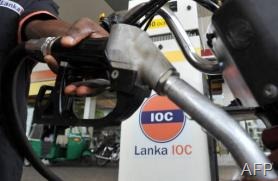 Sri Lanka announced on Thursday it would repossess part of a strategic oil storage depot from a state-run Indian firm after Delhi supported international calls to probe war crimes on the island.
Information Minister Keheliya Rambukwella said there were provisions to repossess tanks that were not being used by the Indian Oil Company's local unit, Lanka IOC, in the northeastern port of Trincomalee.
"If they are not using the tanks, we can use them," Rambukwella told reporters. "This is for the country.
"If they are not using these tanks, the CPC (state-run Ceylon Petroleum Corporation) wants to take them back and put them into good use."
Rambukwella denied that the move to repossess the facilities, which were privatised in 2003, was in retaliation for India voting with the United States to censure Sri Lanka at the UN Human Rights Council on Thursday.
"The CPC had wanted to expand. They need at least three tanks in Trincomalee to store their chemicals and other products," he said, adding that there were legal provisions for the government to repossess the tanks.
Lanka IOC chief Subodh Dakwale said he was unaware of government plans to take back some of the tanks at the Trincomalee tank farm.
"We are right now spending $17 million to refurbish two tanks and we are quite unaware of the plan to take over some of the storage tanks," Dakwale told AFP.
The UNHRC adopted a resolution initiated by the United States demanding accountability for alleged war crimes during the Sri Lankan military's crushing of Tamil Tiger rebels in 2009.
Rights groups have said that up to 40,000 civilians were killed by government forces in the final months of fighting, a charge denied by Sri Lanka.
India, home to millions of Tamils who share links with their counterparts in Sri Lanka, risks a further worsening in relations with its southern neighbour over the UNHRC resolution.
(For updates you can share with your friends, follow TNN on Facebook and Twitter )