New Delhi Establishment's High Commissioner in Colombo, Ashok K. Kantha and his wife will be getting a 'warm send-off' on Monday, arranged by the genocidal Sinhala military occupying Jaffna, felicitating his services and promotion as Secretary–East at New Delhi's Ministry of External Affairs, news sources in Jaffna said. Sri Lanka military hosting a send-off party, that too in the occupied land of Eezham Tamils, and the Indian envoy accepting it, is unprecedented, but very significant in comprehending the current level of recognition India provides to Sinhala militarisation and the extent of partnership in genocide, news sources in Jaffna further said. Mr Ashok Kantha was posted in Colombo after the war and continued for more than three years in the service of structuring Indo-Lanka partnership over the structural genocide of Eezham Tamils.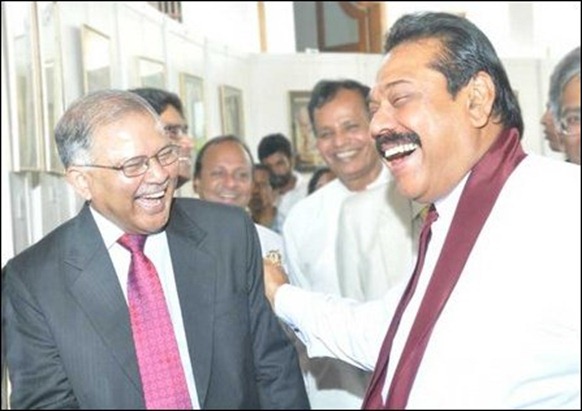 Ashok K Kantha with SL President Mahinda Rajapaksa at International Buddhist Conference, organised by Indian Council for Cultural Relations (ICCR) at Kandy in 2011 [Photo courtesy: ICCR]
The send-off party for the New Delhi diplomat is scheduled to take place at Palaali in the 'High Security Zone' that is now being converted into a permanent Sinhala Military Zone after issuing confiscation notices to houses and productive lands of around 50,000 Tamils.
The felicitation takes place while Eezham Tamils and their political parties wage agitations against the appropriation.
But, whether Tamil politicians in the island who get 'instructions' from the powers and insinuate into peoples' agitations just to get the credit would stage a direct demonstration against Ashok Kantha getting felicitation in the confiscated land, is a question, commented Tamil activists of alternative politics in Jaffna.
Tamil civil society members noticed aloofness and brushing-aside attitude in Ashok Kantha when he visited Jaffna for the first time along with the then Foreign Secretary of New Delhi, Nirupama Menon Rao, after the war.
According to news sources in Jaffna, the Sinhala military enjoys a cordial relationship with Mr Ashok Kantha, while its relationship with the Indian Consul at Jaffna Mr V. Mahalingam is strained from time to time.
The Sinhala military is suspicious of the wide network and relationships built by Mr Mahalingam in Jaffna, and the animosity reflected in slogans raised against him in protests simulated by the SL military, the news sources said, adding that the motive behind the present felicitation is the genocidal military commanded by Hathurusinghe in Jaffna messaging India on the style of diplomacy.
However, political observers in Tamil Nadu said that the Sinhala military is keen in engaging further with Mr Ashok K Kantha in his new and more influential position, especially in view of the fact that he is a close relative of the BJP leader and potential future Prime Ministerial candidate, Mr Yashwant Sinha.
Ashok K Kantha is married to Mr Yashwant Sinha's daughter Sharmila.
Last month, on 04 April, Yashwant Sinha was cited by Deccan Herald as saying that "Tamil Eelam is not far away", in a BJP meeting at Chennai.
Two days later, on 06 April, India Today reported that Yashwant Sinha's nephew Dilip Sinha, who is India's ambassador to the United Nations, "played a leading role in formulating UPA's response to the US resolution on human rights in Lanka".
The felicitation and the importance given to Mr Kantha by the Sinhala military have to be understood in the above background, political observers in Tamil Nadu said.
Diplomats at New Delhi's MEA, whether from the North or South, traditionally have a tendency of paying much recognition to the 'sophistication' of Sinhala diplomacy, while viewing the political parties and public sentiments in Tamil Nadu with utter contempt, sources close to the diplomats said.
(For updates you can share with your friends, follow TNN on Facebook and Twitter )