The Tamil Nadu assembly on Friday passed a resolution demanding the retrieval of Kachcha-theevu citing "continued violent attacks, torture and arrest of Tamil Nadu fishermen by the Sri Lankan Navy." Tamil Nadu Chief Minister J Jayalalitha had emphasised that the retrieval of Kachcha-theevu was the only way to protect Tamil Nadu fishermen. The resolution, moved by the AIADMK, was unanimously passed in the assembly with the approval of the representatives of all political parties present.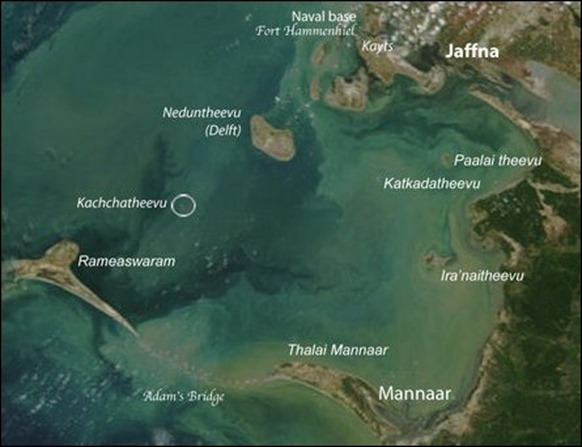 Satellite image showing the location of Kachchatheevu [Image courtesy: NASA, Visible Earth, Legend by TamilNet]
"Replying to the discussion on the resolution, the Chief Minister said there were seven instances of the Sri Lankan Navy harassing and imprisoning fishermen from Tamil Nadu in the last two months. Thirty fishermen were still languishing in prisons there and five of them had spent more than a year," The Hindu reported on Friday.
The only parties absent when the resolution was tabled were the PMK and the DMK. The DMK members had been earlier suspended for the entire budget session.
Of the political parties present in the assembly, some were of the opinion that the resolution would have far-reaching impact in the backdrop of China getting closer to Lanka, The New Indian Express reported on Saturday.
"In the future, redeeming Katchativu would help save India from possible attacks from China," the TNIE report further added.
Naturally the Eezham Tamils, under whose territorial sovereignty the question of the islet falls in, should have demanded negotiation with them. But, under the current circumstances of New Delhi-abetted Sinhala military occupation of their entire country and waters in the island, only apathy would be their response to the move of Tamil Nadu. They may even welcome it as it would undermine the unholy alliance between New Delhi and Colombo, Eezham Tamil activists of alternative politics in Jaffna said.
The uninhabited islet lacking potable water, situated midway between Nedun-theevu of Jaffna district and Rameswaram of Tamil Nadu, traditionally comes under the Roman Catholic parish of Nedun-theevu (Delft). The fishermen question escalated with the unchallenged occupation of the waters of Eezham Tamils by the genocidal Sinhala Navy in partnership with New Delhi.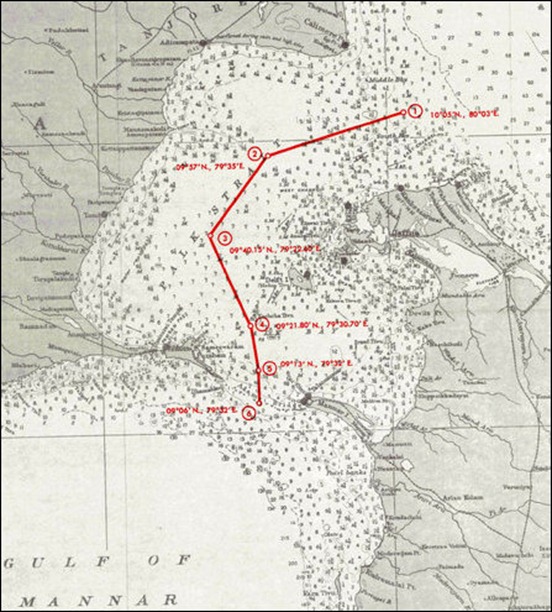 Maritime boundary in the Historical Waters of the Palk Bay between India and Sri Lanka. [Courtesy: U.S. Department of State, Bureau of Intelligence and Research, 1975]
(For updates you can share with your friends, follow TNN on Facebook and Twitter )