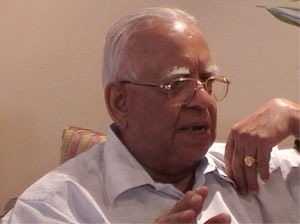 "Defence Secretary Gotabaya Rajapaksa has said police and land powers would not be given to the Northern Province. I am not ready to talk to him because he is not the government," said ITAK leader R. Sampanthan at the Trincomalee District General Meeting of the ITAK yesterday.
The meeting was held at the New Silver Star Inn to appoint electoral agents, re-structuring party branches and to explain the current political situation.
"The problems of Tamils have reached the United Nations. UNHCR conducted discussions with regard to Sri Lankan Tamils. Therefore, we cannot give up our principles for the sake of a 2 km road," he said speaking at the meeting.
"Except for the 50 acre-land acquired for the Sampur Electricity Scheme, all other lands will be released; that was the promise given to me by Economic Development Minister Basil Rajapaksa, however, in spite of the promise the lands are still not released. Countries which helped to destroy LTTE, should place a solution before Tamils, be it the USA or India; we need a solution and they are duty-bound to provide it," Mr. Sampanthan said.
He further said "We have shared Rs. 5 million received from our decentralised budget among eleven temples. Had we joined the government, we would have received even Rs.100 million for development, but we will not deviate from our principles." (Singaravelu Sasikumar)
(For updates you can share with your friends, follow TNN on Facebook and Twitter )