The occupying Sri Lanka Army (SLA) soldiers on Tuesday evening brutally raped a Tamil woman, who had gone to the nearby shrub to collect firewood in Poonakari division of Ki'linochchi district. The 38-year-old mother of two was rushed to Poonakari hospital by the neighbours after her children discovered her at unconscious state. The victim has told the medical staff at Poonakari hospital that two Sinhala soldiers had forced her into a bush and brutally raped her after binding her legs with her hands using their belts. Around 6,000 Tamil families, dependent on agriculture and fishing, live in the heaviliy garrsoned Poonakari division where more than 30,000 Sinhala soldiers are stationed, committing all kinds of abuses on them. The latest rape victim is from Vinaasiyoadai village. Her husband is reportedly a former LTTE-member who is still in SL military custody.
The victim had lost a lot of blood and was struggling for her life. She has been transferred for Chavakachcheari hospital, medical staff at Poonakari said.
According to latest reports on Friday, the victim is admitted at Ki'linochchi hospital and is still struggling for her life. A surgery has been carried out on Thursday.
More than 30,000 Sinhala soldiers from two brigades (20,000 soldiers) and 11 divisions (11,000 soldiers) of the genocidal Sinhala military are now stationed in Poonakari and the villages around it, sealing off and choking Jaffna Peninsula, besides checking the Tamil Nadu coast and the Palk Bay.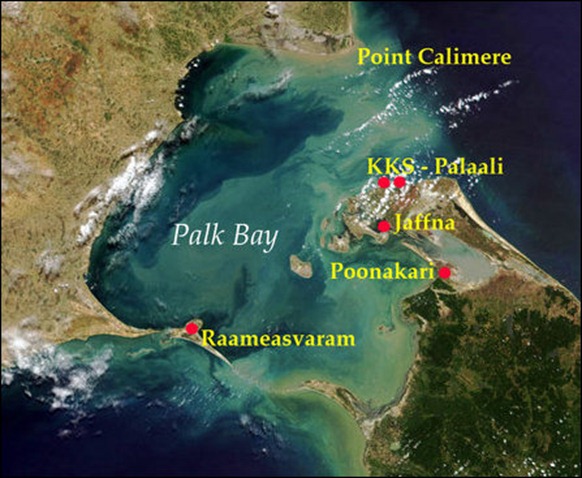 [Satellite Image Courtesy: NASA, Visible Earth. Details & Legend: TamilNet]
(For updates you can share with your friends, follow TNN on Facebook and Twitter )