Tamil National Alliance (TNA) parliamentarians in Batticaloa staged a peaceful protest in front of Paddippazhai Divisional Secretariat (DS) on Wednesday against the Sinhalicisation of Paduvaankarai, Kevu'liyaa-madu and Puluk-kunaavi. The SL police, operated by Colombo, was telling the protesters to leave the site arguing that a group led by the Buddhist prelate of Batticaloa Mangalarama vihara was coming to the site to stage a counter-protest. However, Tamil parliamentarians objected the explanation by the SL police and held the protest for one hour as planned.
Following the protest by the Tamil parliamentarians, the Buddhist prelate of Batticaloa Mangalarama vihara came to the divisional secretariat with Sinhala encroachers and the officers of the occupying SL military to hand over an appeal to the divisional secretary not to block construction of houses to Sinhala settlers.
Tamil protesters questioned why the divisional secretary had failed to evict the encroachers from the lands they were occupying. Was this due to the pressure exerted on the DS by the occupying government, they questioned.
One of the placards held by the Tamil protesters questioned: "Is the Law in the hands of the Governor, Minister, Buddhist monks or the agents [of SL State]?"
"Do not support land appropriation for posts," another placard urged the officials in the civil administration, while some other placards stated: "Take legal action against encroachers", "Do not violate law" and "Justice should prevail".
TNA parliamentarians of the Batticaloa district Messrs P. Selvarasa, P. Ariyanethran and C.Yogeswaran, provincial councilors R.Thurairatnam, Prasanna Indrakumar, Thurairajasingham, Krishnapillai, Nadarasa and Karunakaran participated in the protest.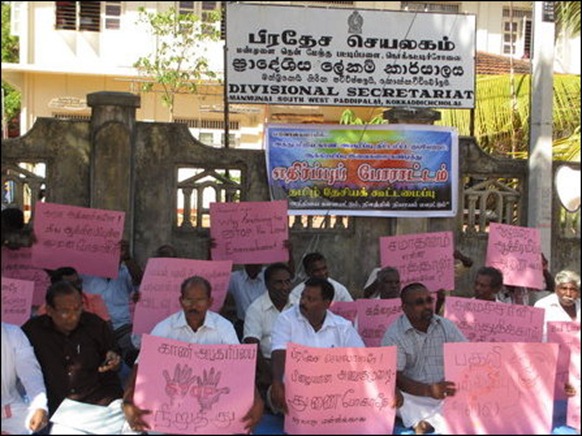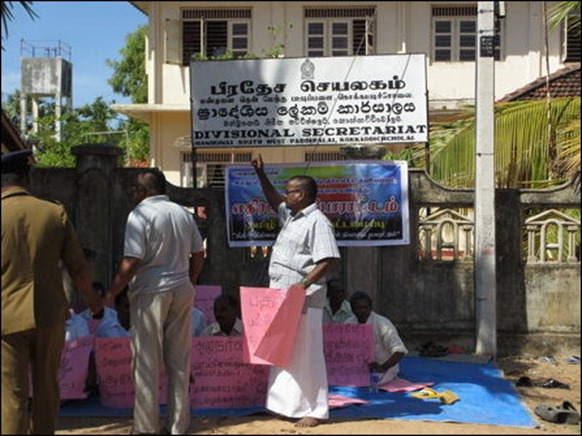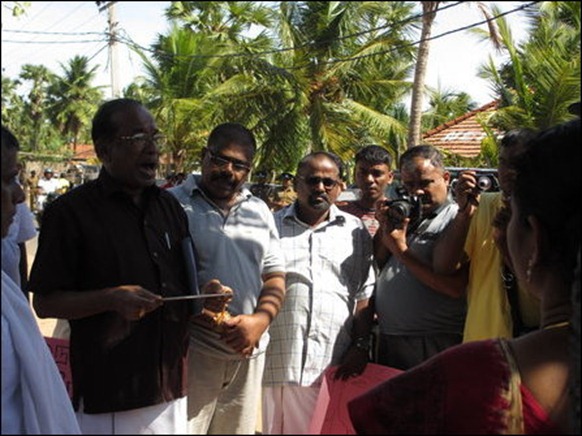 (For updates you can share with your friends, follow TNN on Facebook and Twitter )