"Australia's indefinite detention of 46 recognized refugees on security grounds amounted to cruel, inhuman and degrading treatment, inflicting serious psychological harm on them," the UNHRC said in a statement last week. The statement further said that Australia should release the refugees, of whom 42 are Tamils from Sri Lanka, who have been held for at least two and a half years, and offer them compensation and rehabilitation. Speaking to TamilNet on the UNHRC observations, Trevor Grant, veteran journalist and spokesperson for the Tamil Refugee Council, said the judgement vindicated the strong belief of many advocates and lawyers that indefinite detention was not only illegal but intolerable in a just society. However, the Australia's Coalition still maintains a hardline approach against refugees.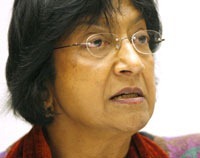 "The Australian Government has been found guilty of almost 150 violations of a human rights treaty it has signed. It is an international embarrassment for Australia on the week it takes over the presidency of the UN Security Council," he said.
"How can this Government continue to lecture the rest of the world on upholding international law and human rights while it is now officially guilty of inflicting cruel, inhumane and degrading treatment upon innocent refugees? And what's worse, it has publicly ignored this damning indictment, saying only that it will respond in due course," Mr. Grant Lamented.
"An Abbott government plans to shut down an independent review of Australian Security Intelligence Organisation security assessments that have condemned almost 50 refugees – including a mother and her three children – to indefinite detention," The Age reported on Thursday, adding that "The Coalition has also cut off on any prospect of the refugees being released from immigration detention on special conditions, including wearing monitor bracelets."
The mother referred to is Ms. Ranjini, an Eezham Tamil refugee, who has been held in detention for more than two and a half years. Her third child was born in the detention camps.
"The UN message to the Australian Government is unambiguous. If its' signature on a treaty means anything, it must immediately release these people. If it refuses to act, it is blackening the country's international reputation and making a mockery of its new Security Council position," Mr. Grant said.
The UNHRC statement had asserted that Australia's treatment of refugees was contrary to accepted international norms.
"The combination of the arbitrary character of (their) detention, its protracted and/or indefinite duration, the refusal to provide information and procedural rights to (them) and the difficult conditions of detention are cumulatively inflicting serious psychological harm upon them," the UN experts said.
(For updates you can share with your friends, follow TNN on Facebook and Twitter )