The Swiss Development Cooperation (SDC), a Switzerland government 'development' outfit operating in the country of Eezham Tamils, shows its 'cooperation' with the genocidal Sinhala State and sends a humiliating development message to Tamils by bringing in the military governor occupying North, Maj. Gen. (retd) G. A. Chandrasri to open two schools at Thadduvaan-koddi and Uduth-thu'rai in the Jaffna Peninsula on Thursday, commented local people who provided a copy of the invitation to TamilNet. The SDC has made an impressive image among the people by the quality of the work it has done, but a 'development' that comes with impunity culture and justification of occupation is not development but spiritual and psychological subjugation and degradation, they further said.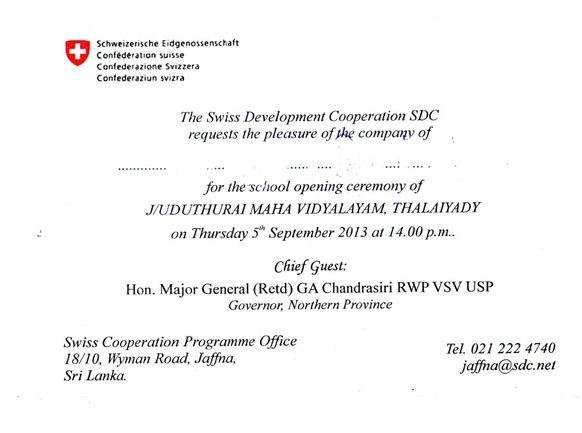 The two schools rebuilt by the SDC are Ka'n'nakai Amman Viththiyaalayam at Thadduvaan-koddi in the Jaffna Peninsula part of the Ki'linochchi District and Uduth-thu'rai Mahaa-viththiyaalayam in the Vadamaraddchi East division of Jaffna District.
The SDC publicity and recognition to the occupying Colombo governor takes place at a time when elections are called for the US-Indian hoodwink course of solution through a unitary NPC, the villagers cited. The election takes place on 21 September.
The schools were being rebuilt for the past 18 months, but the opening function was planned suddenly in the last few weeks, the villagers said, accusing the SDC for promoting the political agenda of the genocidal State locally and the imperial agenda of the Establishment partners internationally.
A comment on the 'progress' in the LLRC-based Geneva resolution is also expected to come in the UNHRC sessions of the second half of September.
Every time a genocidal process and an element of it is recognized and patted on the back, people go backwards in their true development and are alienated from the so-called developers and their Establishments, commented social psychologists in Jaffna.
The Swiss government in recent times is engaged in deporting even the most vulnerable asylum seekers and rape victims, informed diaspora circles said.
Meanwhile, a week ago, eulogising the NPC process designed for the confirmation of the structural genocide of the nation of Ezham Tamils, and harping on a 'minority' formula, the Norwegian ambassador in Colombo proclaimed in Oslo that her government and other governments continuously encourage the SL government "to engage the diaspora." She wanted the diaspora to erase the image "that the diaspora is 'still' working for Eezham."
(For updates you can share with your friends, follow TNN on Facebook and Twitter )