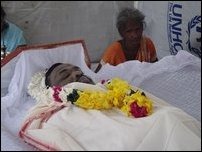 52-year-old Francis Nelson, a father of one, from Karunaadduk-kea'ni in Kokkuth-thoduvaay in Mullaiththeevu, died in Sri Lankan custody at Kalutara prison on September 02. His wife, a Sinhalese, who has been living in Vanni with the parents of Nelson, has alleged that her husband's death was caused by continuous and systematic torture at the prison. Nelson had managed to phone his wife on September 01 and the news of his death the following day was a shocking news to the family, news sources in Vanni said. The mysterious death of the Tamil prisoner comes amidst increasing complaints of routine torture at the prisons in the South.
In the meantime, Tamil politicians and journalists who have been talking to Tamil prisoners over the phone have been subjected to interrogations by the Terrorist Investigation Department operatives.
The dead body of the victim was handed over to the family for funeral on 04 September.
Francis Nelson had been tortured for a long time in the prison, according to her wife.
Nelson, a strong supporter of the LTTE, was reported abducted and missing since 2006 when he had gone to Colombo.
His whereabouts had not been known for a long time till he was located at Kalutara prision after the end of Vanni war, news sources in Mullaiththeevu said.
Funeral of Francis Nelson was held on September 04 in a temporary hut at Karunaadduk-kea'ni, where his family has resettled without basic facilities.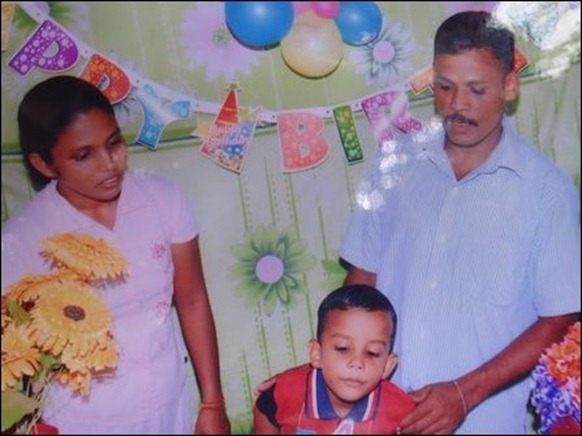 Francis Nelson with wife and son, photographed in 2006
TamilNet: 07.09.13 Mysterious death amidst increasing reports on torture in SL prisons
(For updates you can share with your friends, follow TNN on Facebook and Twitter )