Two candidates of an independent group, contesting the provincial council elections in Jaffna district under Padlock symbol, were brutally attacked in the early hours of Thursday allegedly by EPDP operatives with the facilitation of the occupying Sri Lankan military at Ma'ndaitheevu junction while they were returning from the islets towards Jaffna city. The driver of the three-wheeler in which they were travelling, escaped by jumping into the sea, while the candidates were brutally attacked. The three-wheeler was set on fire by the attackers. The attack has taken place while Indian election monitors and international media personnel were present in the city. The two candidates were attacked as they were dividing the vote bank of the UPFA in Vadduk-koaddai and the vote bank of the EPDP in the islets.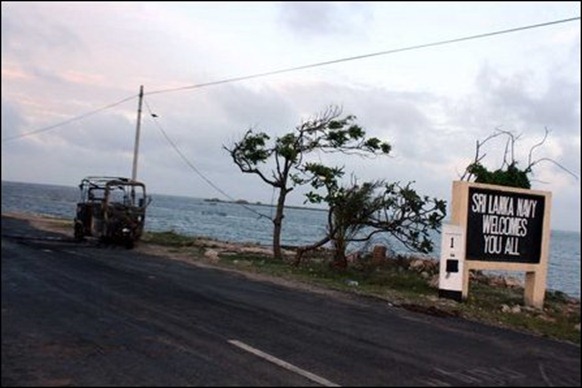 The victims were, 29-year-old Prakalathan Swaminathan and 30-year-old Thesarajeev Kanakasundaram.
They were returning to Jaffna after concluding their election propaganda in Ma'nkumpaan and at Veala'nai of Ooraaththu'rai (Kayts) island Wednesday night.
A squad comprising of EPDP and SL military operatives was continuously following them in a harassing manner during their meetings, the victims have complained.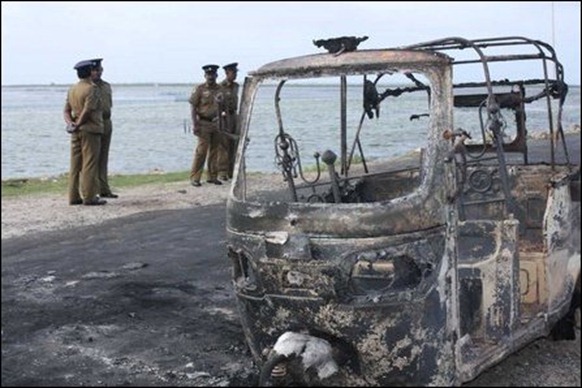 Mr Balasubramaniam, a former associate of notorious UPFA operative Ankayan Ramanathan, the district organiser of the UPFA in Jaffna, who was not given the chief-candidate nomination in the UPFA list, had split from the Ankayan group and joined the independent group under the Padlock symbol. The independent group is also backed by Ms Vijayakala Maheswaran of the UNP, voters in the islets said.
The commander of the SL military in Jaffna, Major General Mahinda Hathurusinghe, is backing the candidates of UPFA's Ankayan Ramanathan.
The squad freely passed through the SL military check posts at Ma'ndai-theevu junction after the attack, according to the victims, who have been admitted at the Jaffna Teaching Hospital.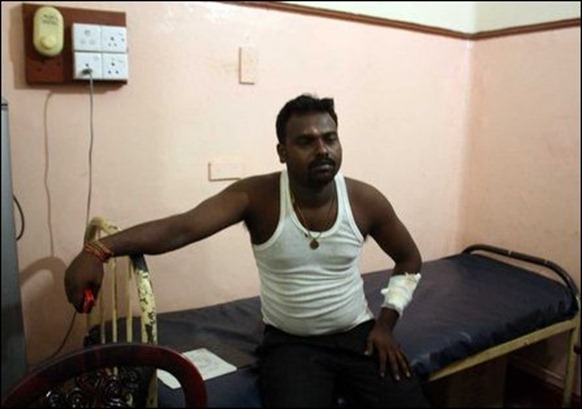 One of the candidates admitted at Jaffna hospital
(For updates you can share with your friends, follow TNN on Facebook and Twitter )