Courtesy to the genocidal State in the island and the powerful world Establishments that continue to pat on its back, the peoples in the island get one of the worst passports of the world. Sri Lankan passport is ranked as the 6th worst in the world, after Afghanistan, Iraq, Somalia, Pakistan and Nepal, according to a survey conducted by Henley & Partners in collaboration with IATA. Four of the worst six being South Asian countries should be carefully perused by the peoples of the region, who lack any dignified ideological or Establishment leadership for the region, commented Tamil diaspora political observers.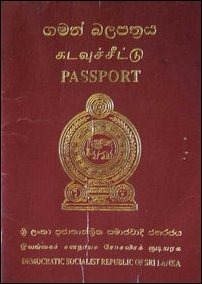 The West conducts a war in Afghanistan, the northern node of South Asia. The West in partnership with India designed and coursed a genocidal war in Sri Lanka, the southern node of South Asia.
Being the dominant country in South Asia, India is largely responsible for the stability and prestige of the region. But it accommodates an imperial war on the north, and in the south, it was in complicity in brining in the first full-fledged genocidal war into the region of South Asia.
The war in the island is over, everybody say. But like the Sinhala military staying and waging a structural genocide war in the country of Eezham Tamils, and like the Establishments in complicity engaged in a global war treading on Tamils to make them lose their claim for their land and nation, the worst rank of the 'Sri Lankan' passport also continues, the diaspora political observers said.
Sri Lanka shares the 6th worst position along with Kosovo, Sudan and Lebanon.
Even Libya and Syria fare better than Sri Lanka in ranking.
Sri Lankan passport holders have only 38 countries in the world where they could travel without visa restrictions, while the 'best' passport holders in the world coming from Finland, Sweden, and interestingly the UK, could travel to 173 countries.
Indian passport holders could travel visa-free to 52 countries. Among the 93 ranks ending with Afganistan, India is placed at 77, just 11 ranks above genocidal Sri Lanka.
PDF: Global Ranking – Visa Restriction Index, 2013
External Links:
Emirates 24/7: World's worst passports: Nepal, Sri Lanka, Pakistan rank in top 10
(For updates you can share with your friends, follow TNN on Facebook and Twitter )