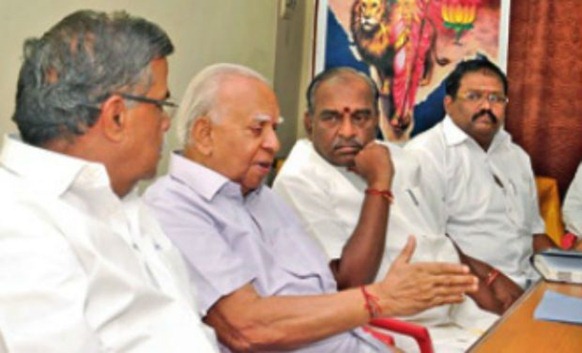 Accusing the Sri Lankan government of doing precious little in rehabilitating the internally displaced Tamils in the island nation, TNA leader and parliamentarian R. Samba­nthan said India has the onus to ensure justice for the Lankan Tamils.
The senior leader who called on BJP leaders at Kamalalayam – BJP headquarters – here on Tuesday and sought their support on the issue said more than the international community, India had a greater role to play in ensuring justice for the Lankan Tamils.
"We are asking only for justice. We are aski­ng only for our rights. India should prevail upon Sri Lanka to empower Lankan Tamils as per the 13th amen­dment," he said.
Speaking to reporters after meeting the BJP leaders, he said the Tamils in the island nation were demanding an autonomous system within a united Lanka. "India's support should be total because all of us had migrated from India. India has more rig­hts in resolving our problems as we are living permanently there and have rights to live there," he said.
He claimed the Tamils felt disappointed for three reasons. First, the Lankan government had failed to empower them politically as envisaged in the 13th amendment. "Instead, it attempted to amend the amendment," he charged.
Also, the people have not been resettled in their own places and several thousands were unable to resettle and thirdly, the rights violations should be probed by an international agency including India and "truth should be exposed."
"As India's role in the peace process and political empowerment is crucial, I have come here (Chennai) to meet the political parties and seek their support. Today I met the BJP leaders. I will meet the leaders of other political parties soon," he added.
Asked if India should boycott CHOGM in Colo­mbo, he shot back, "it is for India to decide. But since all political parties in TN are opposed to the visit, India should see the rationale." When persisted if he wanted India to stay away from the meet, he replied, "I will not say anything contrary to the views expressed by political parties (in TN). This should be decided by the Centre."
Besides Pon Radhak­rish­nan, state president, nati­onal executive member L. Ganesan, national secretary Dr Tamilisa­isou­nda­rajan, state secretary Van­athi Srinivasan interacted with Mr Sambanthan earlier at party headquarters.
(For updates you can share with your friends, follow TNN on Facebook and Twitter )