The occupying Sri Lanka Army (SLA) soldiers deployed in transforming the former High Security Zone in Valikaamam North into a Sinhala Military Zone (SMZ) on Monday rounded up and threatened a delegation of TNA parliamentarian, elected members of the Northern Provincial Council and the members of two civic bodies, at gunpoint on Monday, when the delegation went to the site following the complaints by the uprooted people that the occupying SLA was demolishing their houses using bulldozers. When the TNA parliamentarian E. Saravanapavan and the elected members of Northern Provincial Council M.K. Sivajilingam and Tharmalingam Sitharthan were watching the demolition, armed SLA soldiers with their officers rounded up and threatened the delegation at gunpoint and threatened them to leave the site after deleting photos and recordings from their cameras.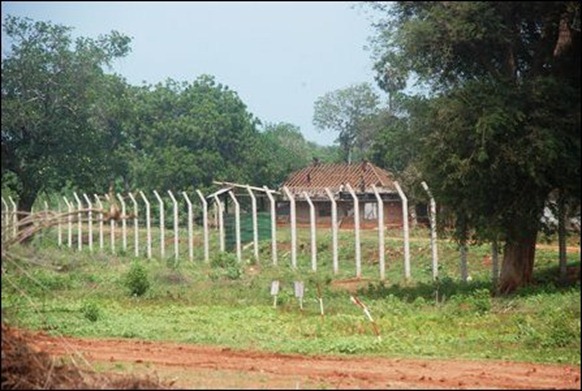 SL military removes tiles from a house of Tamils in the land that has become Sinhala Military Zone at Kadduvan in Valikaamam North, Jaffna.
Journalists who accompanied them were also threatened at gunpoint and their recordings were deleted from the voice recorders and cameras.
"If anything gets published, we will kill you," the occupying SLA soldiers at Kadduvan warned the journalists.
Even after the journalists had left the site, they received threats from a military officer named Mallavarachi from the so-called Civil Military Coordination in Jaffna who 'advised' the journalists not to release any photo or recording from the site. If anything was published, the SL military knows who were responsible for the act, the military spokesman has warned the journalists.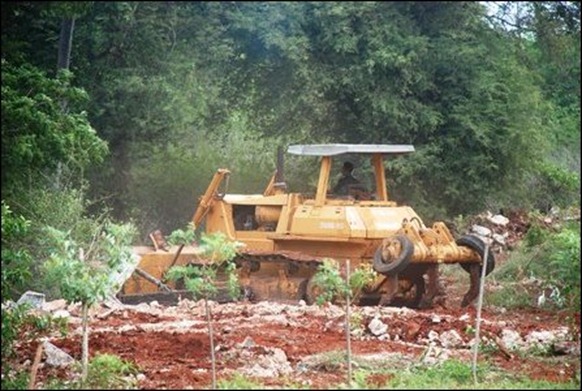 Houses of Tamils are bulldozed inside Sinhala Military Zone at Kadduvan.
The photos recovered from the cameras of some of the delegation members document the scale of demolition taking place at Kadduvan situated in Valikaamam North. The SL military has fenced off the area where the buildings are being bulldozed.
The delegation was inspecting the site from outside the fenced area, but they were threatened to leave the site with immediate effect by the SL military officers.
The journalists who accompanied the visiting delegation said they also witnessed the kind of respect the SL military was showing by issuing death threats at gunpoint to the Tamil parliamentarians and the NPC members.
The military officer, who threatened the delegation didn't hesitate to claim that SLA had seized the area to create a settlement for the families of the SLA soldiers.
The demolition work is taking place at an accelerated phase, the journalists further said.
The visiting delegation also comprised of NPC member Gajatheepan and TNA members of civic bodies from Valikaamam North and Chu'n'naakam Piratheasa Chapai (PS).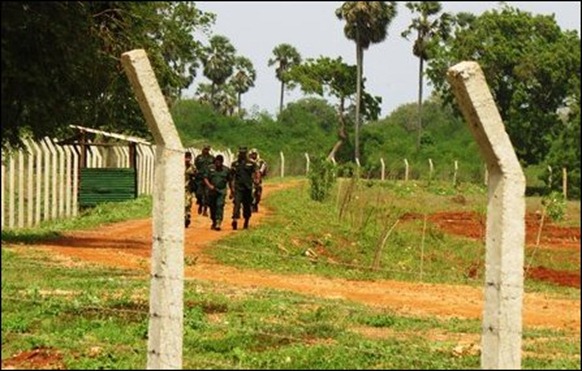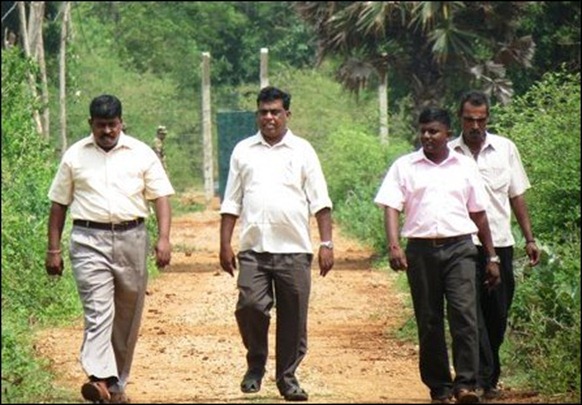 The confronting Sinhala military and visiting Tamil representatives at Kadduvan on 28 October, 2013.
(For updates you can share with your friends, follow TNN on Facebook and Twitter )