Australian Senator Lee Rhiannon of the Greens party and New Zealand MP Jan Logie were detained, and interrogated separately in Colombo and were"sent back to their countries," for, according to Colombo, allegedly breaking the island's visa laws when the MPs visited Sri Lanka, a Sydney popular daily reported Sunday. Sri Lanka authorities appeared to have been perturbed by the independent observations made by the two MPs in their visit to the North, political observers said. In a joint statement that was to be released by the two MPs, before Immigration officials took the two MPs into custody, the MPs called for the cancellation of Commonwealth Meet in Colombo saying, "[i]f CHOGM goes ahead and if Sri Lanka is given the Chair of this organisation the Commonwealth will have failed the people of Sri Lanka and damaged its own high standing with the international community."
PDF: Joint Statement by Rhiannon, Logie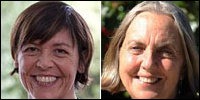 Rhiannon and Logie's statement further said: "Elected officials and members of civil society in Sri Lanka have provided us with examples of massive illegal land confiscation by the armed forces; people being gaoled and detained with regular disregard for legal rights; violence, often involving rape, of women and children with no police investigation of these crimes; and ongoing intimidation of media workers.
"We visited areas where the army is occupying people's land. The homes of the displaced people are now tin shacks serviced by dirt pot holed roads. Many people have been living like this for more than two decades," the joint statement said.
Commenting on the sexual abuse of Tamil women by the Sri Lanka military, the MPs said: "Large numbers of women regularly suffer sexual abuse perpetrated by members of the Sri Lankan armed forces. One lawyer described to us the evidence collected about these crimes. In one case they have text messages from Major General Mahinda Hathurusingha to the 'comfort women' he frequently abuses."
Ms Rhiannon was in Sri Lanka on a 'Special Projects' class Tourist Visa, which she says, as a visiting parliamentarian, she was advised to obtain, but Immigration chief Chulananda Perera said Ms Rhiannon and Ms Logie had broken visa laws by giving "press conferences." The MPs said they were released on condition that they were not allowed to talk to the media without approval from [Sri Lanka's] external affairs department. Four Sri Lankan immigration officials shut down a meeting before the MPs' scheduled press conference, according a report in New Zealand Herald.
Ms Rhiannon said that she was not fearful for her safety, but was most worried for the people she had met with during her fact-finding mission to Sri Lanka, which included visits to the heavily-militarised north.
"This excessive response from the government of Sri Lanka is just further evidence why Sri Lanka should not have been awarded the right to host the Commonwealth Heads of Government Meeting, and the chair of CHOGM for two years. Our detention highlights the Sri Lankan government is unwilling to allow a free exchange of ideas," Rhiannon said.
Greens Leader Christine Milne commented on the ordeal that "[t]he Australian Greens called for a boycott of CHOGM in Sri Lanka earlier this year, as has the Canadian government, because of human rights abuses. It is clear from this [Rhiannon's] fact-finding mission and the treatment of foreign journalists that the fears we have held for press freedom are justified, Milne told the Sydney Morning Herald.
The Green's leader added that the Australian Government continues to turn a blind eye to human rights abuses in Sri Lanka which are continuing to drive a steady stream of people seeking asylum in Australia.
Sri Lanka has been especially sensitive to media and political activities in the lead-up to the Commonwealt Heads of Government Meeting (CHOGM), which Australian Prime Minister Tony Abbott will attend.
Earlier this month Sri Lanka detained two Australian journalist organisers, International Federation of Journalists (IFJ) Asia-Pacific director Jacqui Park and her deputy Jane Worthington, who were meeting with journalist unions. They were interrogated for more than 15 hours before being deported.
The journalists met local media at a press freedom event in Sri Lanka before authorities confiscated their passports and grilled them. The Sri Lankan government took issue with the Australians participating in the press freedom event when they were in the island on tourist visas.
(For updates you can share with your friends, follow TNN on Facebook and Twitter )